Aditya Roy Kapur gets video call from the 'OG Night Manager' Tom Hiddleston; fans react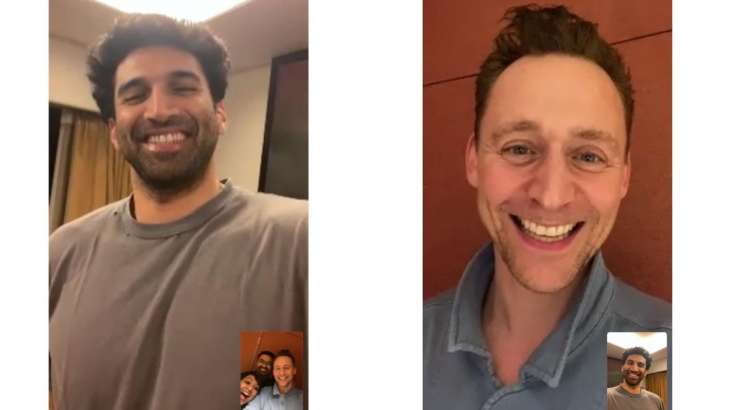 The Indian Night Manger, Aditya Roy Kapur met the OG Night Manger Tom Hiddleston over a video call. Aditya just can't keep calm as the Hollywood star praised the Indian adaption. The hit Disney+ Hotstar show stars Aditya in the lead and is an official adaptation of the English series, which starred Tom in the lead. The handsome hunk of Bollywood took to his Instagram handle to share his happiness.
Aditya shared two pictures from his video call with Tom Hiddleston, wherein he revealed that Tom watched the Indian version of the show and had some 'kind words' to say about it. Alongside the two screenshots of the chat, the actor wrote, "The OG Night Manager watched our show yesterday! He had some kind words to say. Bas aur kya chahiye (What else does one need)."
As much as Aditya is overwhelmed by the gesture, his fans also flooded the comment section. One of the fans wrote, "Two Night Managers in one frame. Aur kya chahiye?" Another one wrote, "OMG OMG OMGGG *screaming* truly an iconic moment!!". "Duniya bhar ka hotness", added another fan. Even Bollywood queen, Katrina Kaif also commented 'wow' on the post.
Earlier, Aditya spoke about the show and said in a statement, "When there's revenge and betrayal in the mix, high voltage drama is inevitable. The Night Manager pulls this off on the back of fascinatingly complex characters. As they say, still waters run deep, and my character Shaan very much embodies that phrase. One can never tell what's on his mind but you know the wheels are furiously turning, taking the plot from one unexpected turn to another. It's been a great experience working with some of the finest talent of the Indian film industry, assembled by the dynamic team at Disney Hotstar."
About The Night Manager 
The Night Manager stars Aditya Roy Kapur along with Anil Kapoor and Sobhita Dhulipala. The series is based on John le Carre's novel, The Night Manager, produced by The Ink Factory and Banijay Asia. After the successful run of the Indian adaptation, Hiddleston shared that the second season of the show is in the works. He further revealed that filming is scheduled to start later this year in South America and London under the code name 'Steelworks.'
Also Read: Why did Naatu Naatu singer Kaala Bhairava apologise days after Oscar win for RRR song? Know here
Also Read: Shah Rukh Khan reviews Rani Mukerji's Mrs Chatterjee vs Norway; showers praises 'My Rani shines'
Surprising Facts About John Wick 4
The fights are very chaotic; I'm thinking the one in the hotel and the one at the Arc de Triomphe. Were those hard to choreograph and did anything go wrong?
Chad: Choreography, I think, by its nature is fun. It's supposed to be difficult, you're supposed to figure it all out and that's the fun part. Did anything go wrong? I mean, there were no incidents, no animals or humans were hurt, but sometimes the moves don't quite do what we're supposed to do. But that's the fun part!
Keanu: The stunt guys were amazing. Like, in the Osaka Continental scene, there was this kid who just threw himself down an escalator.
Chad: Oh, yeah, I forgot about that.
Keanu: He just did it!
Chad: If we're going to do an escalator fall, it's a little different…
Keanu: Cos it's steel.
Chad: Yeah, and keeps going. Our stunt performer looked at it and we were like, "are you sure?" He's like, "yeah, I'm sure", and then just launched it into. We were like, "yeah that was pretty good".
Discover the world of Mashle: Magic and Muscles – Everything you need to know
Are you ready for the ultimate magical shonen experience? Look no further than Mashle: Magic And Muscles, the upcoming anime adaptation of the popular manga series. With a unique twist on the magical world trope and a cast of talented voice actors and production staff, Mashle is sure to captivate audiences when it airs on April 7, 2023. Here's everything you need to know about the series before it premieres.
Join Mash at Easton Magic Academy – Can he keep up the facade and outwit his magical peers?
In a world where magic is everything, Mash stands out as an anomaly. He is unable to use magic but makes up for it with his incredible physical strength and combat abilities. When he and his adoptive father are threatened by those who despise non-magic users, Mash must enrol in a school similar to Harry Potter's Hogwarts, Easton Magic Academy and pose as a Divine Visionary to protect his family and achieve peace. But can he keep up the facade and outwit his magical peers?
Meet the star-studded cast and production team behind Mashle: Magic And Muscles
Mashle: Magic And Muscles boasts an impressive cast of voice actors and production staff. Yuuki Kaji, known for his role as Eren in Attack on Titan, joins the series as Rayne Ames, one of the Divine Visionaries at Easton Magic Academy. Yuichiro Umehara, who played Mars in Black Clover and the titular character in Goblin Slayer, voices Abel Walker, the leader of the school's secret organization Magia Lupus. Hiroki Nanami, who portrayed Asakura Haou in Shaman King, voices Abyss Razor, another member of Magia Lupus. (Also Read: Spring 2023 anime season is here – Checkout Cruncyroll's complete April lineup)
The anime is directed by Tomonari Tanaka of A-1 Pictures, who has previously worked on Bungo Stray Dogs, Hunter X Hunter, and Cyberpunk Edgerunners. The script is written by Yousuke Kuroda, whose impressive resume includes Honey and Clover and Mobile Suit Gundam 00. Finally, Masaru Yokoyama, who composed the music for Fruits Basket, Astra Lost in Space, and Your Lie in April, will lend his talents to the series.
The official trailer promises an action-packed thrill ride
The official trailer for Mashle: Magic And Muscles promises a thrilling ride, with Mash showing off his combat skills against a variety of magical foes. The animation is top-notch, with fluid movements and dynamic fight scenes. Fans of shonen anime won't be disappointed by the action-packed trailer.
Where to watch Mashle: Magic And Muscles?
Crunchyroll has announced that it will be simulcasting Mashle: Magic And Muscles, meaning fans around the world can tune in to the premiere on April 7. Whether you're a fan of the manga or discovering the series for the first time, the simulcast allows everyone to experience the excitement of the series together.
Mashle: Magic And Muscles is shaping up to be one of the most exciting new anime releases of the 2023 spring season. With a unique premise, talented voice actors and production staff, and stunning animation, the series is sure to please fans of shonen anime and beyond. Don't miss the simulcast premiere on Crunchyroll on April 7 and witness Mash's incredible strength and courage as a Divine Visionary.
Pooja Bhatt tests positive for Covid-19, requests people to wear mask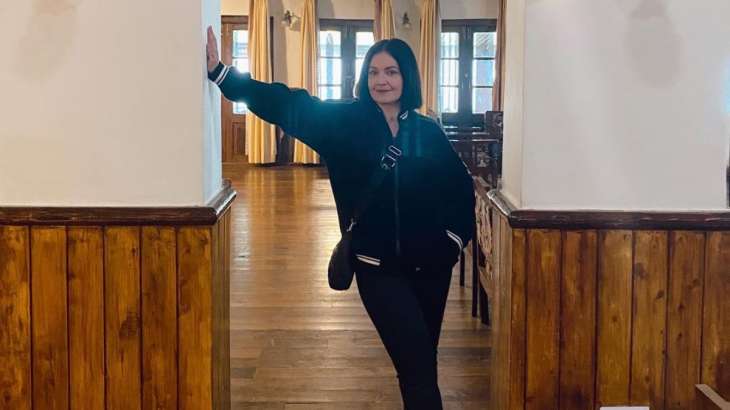 Actor-director Pooja Bhatt, took to her social media handles to inform people that she has tested positive for Covid-19. She advised everyone to mask up saying the deadly virus is still very much around and can get to you despite being fully vaccinated. She shared the news while reacting to a video of kids banging utensils to 'drive away' coronavirus in 2020 during the first wave.
Taking to her Twitter handle, she wrote, "And exactly 3 yrs later, I have tested positive for the first time. Mask up people! Covid is still very much around & can get to you despite being fully vaccinated. Hopefully, I shall be back on my feet soon." 
Reacting to the news, Pooja's friends and followers wished her a speedy recovery on Twitter. As filmmaker Onir wished Pooja, "Get well soon Pooja. sending you love and good energy," she responded to him, saying, "Ahhh! Thank you Onir!" When a Twitter user wrote to her, "Be well soon, Pooja. Binge on anything and everything it's a free pass!" she replied with laughing emojis, "thankfully I have no appetite!" Another user wrote, "Dang! Get well soon! And welcome to our group of 'experienced' ones! My friend said she had her best ideas during the forced quarantine." Replying to the user, Pooja wrote, "Yes nothing like a reminder of one's mortality to have the best thoughts."
There has been a surge in the case of the coronavirus and several actors have contracted the novel virus. Earlier, actor-politician Kirron Kher had been diagnosed positive for Covid. She tweeted, "I have tested positive for Covid. So anyone who has come in contact with me please get yourself tested."
Pooja was last seen in a thriller, 'Chup: Revenge of The Artist'. She was earlier seen in Mahesh Bhatt's film 'Sadak 2' and a web show 'Bombay Begums'. She made her acting debut at age 17, in 1989 with Daddy, and is known for her work in films like 'Dil Hai Ke Manta Nahin', 'Sadak', 'Zakhm', and 'Border'. 
Also Read: Emraan Hashmi Birthday: Throwback to the songs that prove his films have the best music
Also Read: Are Parineeti Chopra and AAP leader Raghav Chadha ROKAFIED? Politician reacts to dating rumours