'Always advocated dialogue, diplomacy': India welcomes Saudi, Iran agreement | Latest News India
NEW DELHI: India on Thursday welcomed the agreement between Saudi Arabia and Iran to revive full-fledged diplomatic ties, saying that New Delhi has always advocated dialogue and diplomacy to resolve differences.
The agreement between the West Asian rivals was brokered by Beijing, which hosted previously unannounced talks between top Saudi Arabian and Iranian security officials last week. The deal was unveiled through a trilateral announcement on Friday by China, Iran and Saudi Arabia and took diplomatic circles in New Delhi by surprise.
Asked about the agreement at a regular media briefing, external affairs ministry spokesperson Arindam Bagchi replied: "We have seen the reports in this regard. India has good relations with various countries in West Asia. We have deep abiding interests in that region."
He added, "India has always advocated dialogue and diplomacy as a way to resolve differences."
Bagchi didn't comment on China's role in bringing together Saudi Arabia and Iran and the ramifications of the move on the region.
India has often referred to West Asia as part of the country's extended neighbourhood in view of energy supplies and the presence of an Indian diaspora of nearly nine million spread across Saudi Arabia, the United Arab Emirates (UAE) and several other countries.
India has good relations with both Saudi Arabia, which is one of the country's biggest energy suppliers, and with Iran, where a state-run Indian firm is involved in operating a terminal at the strategic Chabahar port.
India logs over 1,800 new Covid cases in 24 hours for 2nd consecutive day | Latest News India
India logged over 1,800 new Covid cases for second consecutive day, according to the Union health ministry data updated on Monday.
Union health secretary Rajesh Bhushan will today hold a meeting with states' health secretaries and senior officers to review Covid-19 preparedness as India continues to report a rise in coronavirus infections. Details of the nationwide mock-drill planned next month at health facilities in all districts will be communicated at the review meeting.
On Saturday, India logged 1,890 new Covid-19 cases, the highest in 149 days, according to the Union health ministry data updated on Sunday. The daily positivity was recorded at 1.56 per cent while the weekly positivity was pegged at 1.29 per cent.
Morning brief: TMC MP slams BJP leaders for sharing stage with Bilkis rapist | Latest News India
'Monsters…': Mahua Moitra after BJP leaders seen on stage with Bilkis Bano's rapist
Shailesh Bhatt, one of the 11 convicts in the Bilkis Bano gangrape and murder case, was seen on stage with BJP MP Jasvant Sinh Bhabhor and MLA Sailesh Bhabhor. Read more
New tax regime, other rules to kick in from Apr 1: What taxpayers need to know
As is the case with each financial year (FY), the upcoming FY (2023-24) will also begin on April 1. The announcements made by finance minister Nirmala Sitharaman in the annual Feb 1 budget, too, will come into effect as part of the new financial year. Read more
Watch: Mumbai's historic WPL title gets overshadowed by controversial Shafali Verma decision, Delhi raise question
Delhi fans were left irked with a controversial decision, which cost their side the wicket of explosive opener Shafali Verma. Read more
Jatin Goswami says Patna Shukla co-star Satish Kaushik wished him on Holi: 'Huge loss personally'
In an interview with Hindustan Times, Jatin Goswami spoke about new perceptions after Gulmohar, upcoming projects and his bond with late actor Satish Kaushik. Read more
Uorfi Javed, Sunny Leone, Sayani Gupta, Guneet Monga and other stars stun at OTTPlay Changemakers Awards
OTTPlay Changemakers Awards 2023: Uorfi Javed, Sunny Leone, Sayani Gupta, Guneet Monga and other stars attended the event. Check out who wore what. Read more
Bilkis Bano gangrape case: Supreme Court to hear pleas against remission of convicts today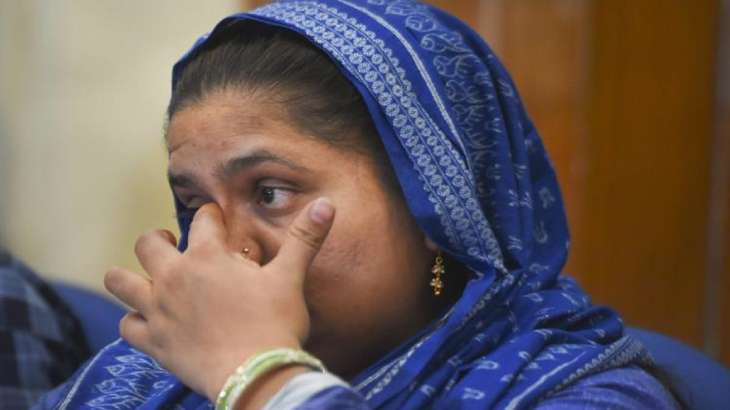 Bilkis Bano case: The Supreme court is all set to hear a batch of pleas challenging the remission of sentence of 11 convicts in the Bilkis Bano gang-rape case, including the the killing of seven members of her family during the 2002 Gujarat riots. A bench of justices KM Joseph and BV Nagarathna will hear the pleas filed by several political and civil rights activists, and a writ petition filed by Bano.
On March 22, Chief Justice DY Chandrachud had directed the matter for urgent listing and had agreed to constitute a new bench to hear the batch of pleas. On January 4, a bench comprising justices Ajay Rastogi and Bela M Trivedi took up the petition filed by Bano and the other pleas. However, Justice Trivedi recused from hearing the case without citing any reason.
Convicts granted premature release
Bano had moved the apex court on November 30 last year challenging the "premature" release of 11 lifers by the state government, saying it has "shaken the conscience of society". Besides the plea challenging the release of the convicts, the gang-rape survivor had also filed a separate petition seeking a review of the apex court's May 13, 2022, order on a plea by a convict. The review plea was later dismissed in December last year.
All 11 convicts were granted remission by the Gujarat government and released on August 15 last year. The victim, in her pending writ petition, has said the state government passed a "mechanical order" completely ignoring the requirement of law as laid down by the Supreme Court. "The en-masse premature release of the convicts in the much talked about case of Bilkis Bano has shaken the conscience of the society and resulted in a number of agitations across the country," she has said.
Referring to past verdicts, the plea said en-masse remissions are not permissible and, moreover, such a relief cannot be sought or granted as a matter of right without examining the case of each convict individually based on their peculiar facts and role played by them in the crime. "The present writ petition challenging the decision of the state/central government granting remission to all the 11 convicts and releasing them prematurely in one of the most gruesome crimes of extreme inhuman violence and brutality," it said.
The plea, which gave minute details of the crime, said Bano and her grown-up daughters were 'shell-shocked with this sudden development'. "When the nation was celebrating its 76th Independence Day, all the convicts were released prematurely and were garlanded and felicitated in full public glare and sweets were circulated," it said. The top court is seized of PILs filed by CPI(M) leader Subhashini Ali, Revati Laul, an independent journalist, Roop Rekha Verma, who is a former vice chancellor of the Lucknow University, and TMC MP Mahua Moitra against the release of the convicts.
What is the case?
Bano was 21 years old and five months pregnant when she was gang-raped while fleeing the riots that broke out after the Godhra train burning incident. Her three-year-old daughter was among the seven family members killed. The investigation in the case was handed over to the CBI and the trial was transferred to a Maharashtra court by the Supreme Court. A special CBI court in Mumbai had on January 21, 2008 sentenced the 11 to life imprisonment on charges of gang-rape of Bano and murder of seven members of her family.
Their conviction was later upheld by the Bombay High Court and the Supreme Court. The 11 men convicted in the case walked out of the Godhra sub-jail on August 15, last year, after the Gujarat government allowed their release under its remission policy. They had completed more than 15 years in jail.
(With inputs from PTI)
ALSO READ | SC agrees to hear Bilkis Bano's plea: 'I will have special bench constituted by evening,' says CJI
ALSO READ | Supreme Court dismisses Bilkis Bano's review petition against remission of convicts'