Beyond chatbots: AI builds productivity pitch
Conversational AI, or artificial intelligence, can be incredible fun. ChatGPT and Microsoft's chatbot Bing search, have successfully positioned AI on almost everyone's radar. Yet, there is more to this AI, than a chatty search engine or being the port of call for often trivial conversations. Microsoft, Google, OpenAI with its new GPT-4 and Meta are piecing together the next evolution of AI, which will have a bigger role in the apps you use.
Microsoft has confirmed it will add a layer of AI to Word, PowerPoint, Outlook, Teams, and workplace apps including Viva — all part of the Microsoft 365 subscription – in a feature called 'Copilot'. The functionality, which will vary for each app, includes generating pointers for upcoming meetings, creating draft documents with the ability to scan information from existing documents, analyse spreadsheets, draft email replies, and scan transcripts to summarise meetings.
It isn't difficult to peg this as a well-thought-out response to Google, which is putting together AI functionality in its Workspace apps. The company says it'll be available to everyone by the end of this year. Microsoft is yet to confirm a roadmap for a commercial release.
Google's pitch with AI in Google Docs and other apps has a similar wide scope. As of now, the list includes drafting as well as replying to emails within Gmail, writing and proofreading documents, creating slideshows, and capturing notes in Meet meetings.
As we have seen already with AI chatbots, they can often go wrong with facts or context. Late last year, Meta pulled the plug on Galactica AI three days after opening it to the public. It had responded to queries with inaccuracies and misinformation, citing fictitious research papers attributed to real authors. This was most likely a result of gaps in data sets or an incomplete ranking of responses.
This is something tech giants continue to warn about. Google's tentative steps with the Bard chatbot being a testament to the concern. "Our goal is to continue to be bold and responsible in our approach and partner with others to improve our AI models so they're safe and helpful for everyone," says Thomas Kurian, CEO, Google Cloud.
Meta, earlier this year released LLaMA, or Large Language Model Meta AI to researchers. The company is not taking any risks after Galactica. "There is still more research that needs to be done to address the risks of bias, toxic comments, and hallucinations in large language models," it said in a statement at the time.
"Sometimes Copilot will be right, other times usefully wrong," says Jared Spataro, corporate vice president, Modern Work & Business Applications at Microsoft, in a statement. The first glimpse of Copilot hints at a set of features which should automate certain time-consuming tasks, including document drafts, managing mailbox clutter, and decoding complex spreadsheets.
The global chatbot market size is expected to be worth as much as $3.99 billion by 2030, according to Grand View Research's latest data.
Bing crossed 100 million daily active users, within the first two weeks of an invite-only release. This number will grow, with new Bing now integrated within the Edge browser app for Android and iPhone, as well as prominent integration on Windows PCs. OpenAI's ChatGPT averages 13 million unique visitors a day, according to analytics firm Similarweb.
Applications will continue to be in focus, as conversational AI expands its horizons.
OpenAI has rolled out the next iteration of its AI language model, GPT-4, which will become the foundation for ChatGPT and the new Bing. This iteration is, for all intents and purposes, an iterative update in terms of conversational skills. But it is a significant step forward in other respects, such as the ability to accept image inputs in addition to text and better performance in a number of benchmark tests.
"It is encouraging to see a lot of emphasis on avoiding undesirable side effects and behavior. OpenAI evaluated GPT-4 for a wide range of risks such as hallucination and harmful content and claim that it is 82% less likely to respond to questions that are not allowed and reduces false positives," Peter van der Putten, director AI Lab, Pegasystems and Assistant Professor at Leiden University, tells HT.
OpenAI's focus is on scaling, with the start-up confirming platforms such as Duolingo, Be My Eyes, Stripe, and Khan Academy, are already using GPT-4. Grammarly's new AI proofreading tool will be available as a beta service, in April.
Another OpenAI speech recognition project, Whisper, is being used to build tools that help add AI generated subtitles to video editing apps, such as DaVinci Resolve. Popular search engine and web browser app, DuckDuckGo, is using ChatGPT and Google-backed Anthropic's language models for Duck Assist – this tool summarises information from Wikipedia, for a search you may have embarked on.
New tax regime, other rules to kick in from Apr 1: What taxpayers need to know
As is the case with each financial year (FY), the upcoming FY (2023-24) will also begin on April 1. The announcements made by finance minister Nirmala Sitharaman in the annual Feb 1 budget, too, will come into effect as part of the new financial year. In Budget 2023, one of her announcements pertained to the old and new income tax regimes.
Also Read: Everything To Know About the New Income Tax Regime 2023
What did Sitharaman announce?
The minister announced changes to tax slabs under the new regime, adding, however, that taxpayers will still be able to select the regime under which they want to file their returns. In case no choice was made, the new tax regime will be default, she said.
Also Read: Confused about old and new income tax regime? Here's a dedicated calculator
What to know about the new tax rules?
Speaking to HT's sister publication Mint, Abhishek Soni, co-founder and CEO, Tax2Win, explained what citizens must know about the new tax rules. "As we usher in the new financial year, and bid farewell to FY 2022-23, we can expect some significant changes coming into effect from April 1, 2023. These changes will involve the introduction of new rules or reforms to existing ones, as announced by the finance minister, in the Budget 2023," said Soni.
Here are a few things one must know about the new rules, as per Abhishek Soni:
(1.) The increase of basic exemption limit (from ₹2.5 lakh to ₹3 lakh) is to make the new regime more 'attractive.' The highest rate of 30% will be levied on annual salary of more than ₹15 lakh.
(2.) The surcharge rate has been reduced from 37% to 25% for those earning more than ₹5 crore annually. Under the new regime, however, this 25% rate is for individuals with yearly income exceeding ₹2 crore.
(3.) Individuals and Hindu Undivided Families (HUFs) can choose between the regimes in every FY (if there is no business income). For those with business income, on the other hand, there will be only one chance to return to the old regime, if they opted for the new one.
(4.) Section 87A rebate is available under both. Also, for those confused which one to opt for, the Income Tax Department has launched a 'calculator.'
(5.) Under a proposal to introduce a standard deduction in the new regime (no changes made for the old one), people will benefit from a standard deduction of ₹50,000.
Key meet today to decide 2022-2023 EPF rate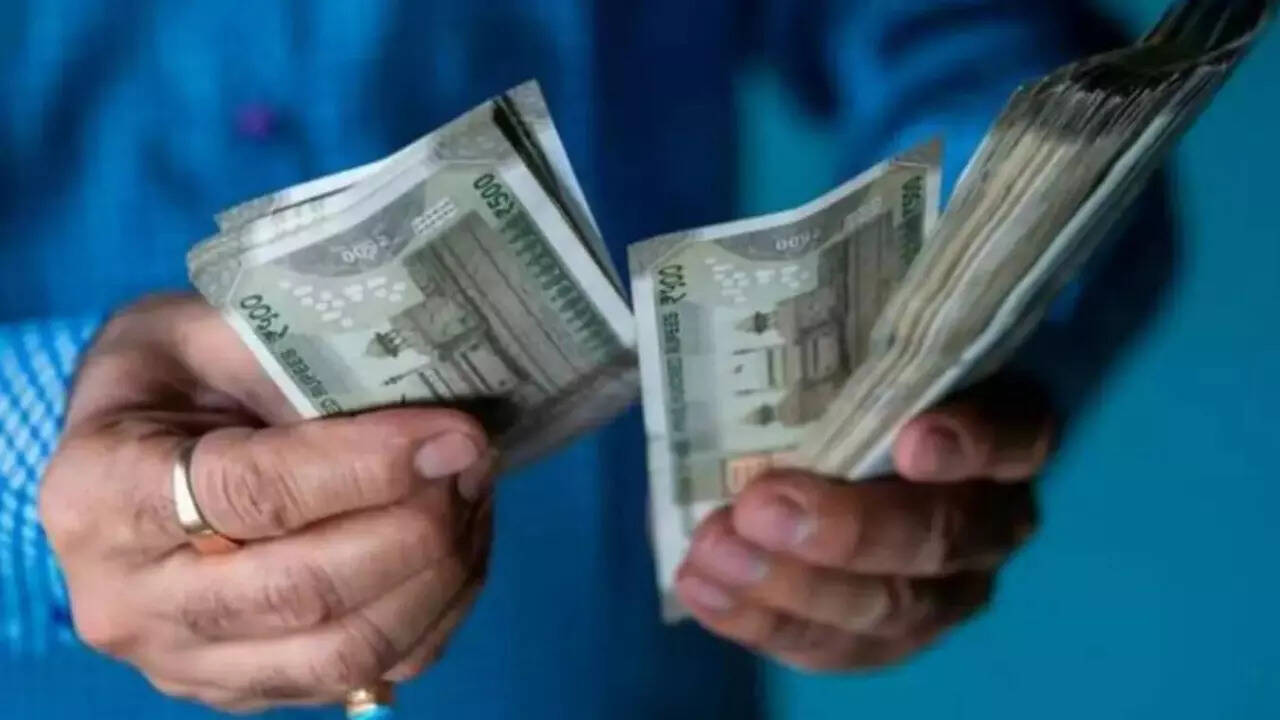 NEW DELHI: The crucial twoday meeting of the EPFO's Central Board of Trustees, which is to declare the EPF rate of interest on the retirement corpus for 2022-23, will begin in the national capital on Monday.
In March 2022, the government had declared 8. 1% EPF rate for 2021-22, the lowest level since 1977-78. It is expected that the interest levels will be maintained at par.
The declara tion of interest comes at a time when government had said interest applicable for 2021-22 is still being credited and was a bout 98% complete till March 6. The delay in EPF interest cred its was attributed to a software upgrade necessitated by the introduction of TDS on annual EPF contributions of over Rs 2. 5 lakh.
Apart from the declaration of interest rates, the meeting assumes significance since the pension fund manager will present a status note on the Supreme Court's November 4, 2022 judgment regarding pension on higher wages, an issue that has led to considerable angst among exsisting and prospective pensioners as a result of procedural complexities in the application process.
In its meeting of the Pension Impleme ntation and EDLI Committee (PIEC) on March 15, EPFO had decided to issue a set of FAQs to "demystify" the apex court judgment and its implications on pensioners. However, des pite the extension of last date of application to May 3, the EPFO has still not issued the detailed explainer, nor clarified the method of deposit or computation of pension. Other agenda items include, among other things, a presentation of the retirement fund manager's revised budget estimates for 2022-23 and budget estimates for 2023-24 for EPFO and the schemes fu nded by it. This comes in the backdrop of PIEC's expression of concern in the March 15meeting over the labour ministry's submission to a parliamentary panel that its budget estimates for 2023-24 were prepared without factoring in the implications of the apex court's judgment, also as this may impact the EPFO rate of interest for 2022-23.
A report of the standing committee on labour tabled in Parliament this month said the ministry told the House panel that the implications of the judgment had not been factored in to the BE 2023-24 allocation.
In a subsequent Action Ta ken Report by the labour ministry, it has said the fund manager has seen a "significant drop" in
EPFO
's acturial deficit as a result of the improvement of the quality of data with respect to the members of EPS-95.
BREAKING: Israel PM fires defense minister who dissented on court plan
Israel PM Netanyahu fires defense minister who dissented on court plan
Israeli Prime Minister Benjamin Netanyahu on Sunday fired Defence Minister Yoav Galant a day after he broke ranks, citing security concerns in calling for a pause to the government's controversial judicial reforms, reported AFP.