From the Archive: First Indian company listed on US exchange
Well, it was almost as if Columbus had rediscovered the Americas. Only, on the eve of 21st century, there was a difference. Instead of a rag tag, fatigue-hit Columbus screaming a possible hurrah on touching American soil, it was the tie clad, scented, suited-booted Indian industrialist who demurely keyed in the first direct listing into the US securities market.
For those assembled at the Bangalore campus of India's software bigshot, Infosys Technologies Ltd, the electric atmosphere left no doubt that history was in the making. An Indian company was for the first time ever getting directly listed in a US securities exchange. India's leading information technology company began trading on the Nasdaq under the symbol "INFY". Until now, no Indian company had crossed the stringent conditions that came in the way of trading in a US stock exchange. Infosys chairman NR Narayana Murthy's visage came floating on a video screen through an internet link. Present in New York for the momentous occasion, he likened the event to Armstrong stepping on the moon. Twisting Armstrong's famous line a little, Murthy said it was "a small step for Nasdaq hut a giant leap for the Indian industry".
As Infosys's listing was officially announced by a Nasdaq functionary, the 3,000-odd employees of the company waiting with bated breath at the campus erupted into spontaneous applause. Nasdaq president John T Wall's comment that the "atmosphere was truly electrifying" was an understatement. Some went wild, fire crackers rent the air and colourful rocket-bombs spewed showers of exquisite flames on a near delirious crowd.
History was made. Nasscom chief Dewang Mehta, who was in New York, burst out saying, "You guys have done it". For the unassuming chairman of Infosys, it was a "dream come true" almost a fairytale in which the protagonist crosses the seven seas and the almost insurmountable mountains to reach the other end of the rainbow.
Started in 1981 when seven Indians sat huddled in a dingy Bombay room with "lots of dreams, lots of enthusiasm, and lots of ideas but severely short of cash" in Murthy's words, Infosys has come a long way.
Infosys managing director Nandan Nilekani was more sombre in the hour of joy. "We are the first to cut through all precedents. In the eye of the world now, we have had to understand a whole lot of issues. We are at the end of a long and arduous process it's our own tryst with destiny," he said matter-of-factly.
What makes the event historic is the direct presence of an Indian company in the US securities market. More importantly, it means that Infosys has been found acceptable to trade in the "mecca of global capitalism". This implies that Infosys satisfies the stringent financial, capitalisation and corporate governance standards that is expected of a company listed in Nasdaq.
Infosys will now rub shoulders with global hi-tech giants Apple, Intel, Microsoft, Sun Microsystems, Oracle, Netscape and what have you. Nasdaq, a state-of-the-art competitor to the more traditional New York Stock Exchange (NYSE), is capable of trading more than one billion shares a day and its transparent working system is mind-boggling.
Infosys opened on Nasdaq to dream trading. While the company offered 1,800,000 American depository receipts (ADRs) representing 900,000 equity shares at US $34 per ADR, it quickly climbed to $37 before touching $41. Within half an hour, it traded half a million shares, Infosys officials said.
Meanwhile, a host of Indian companies are waiting to see the outcome of the "historic" event before deciding whether to join Nasdaq. BPL almost got through but backed out due to pricing problems.
Others on the sideline are HCL, NIIT, Wipro, Zee Telefilms, Ranbaxy and Satyam Computers. Dewang Mehta feels there will be at least 10 more desi companies in a year and possibly 100 in another five years, an Indian invasion is truly on the cards.
New tax regime, other rules to kick in from Apr 1: What taxpayers need to know
As is the case with each financial year (FY), the upcoming FY (2023-24) will also begin on April 1. The announcements made by finance minister Nirmala Sitharaman in the annual Feb 1 budget, too, will come into effect as part of the new financial year. In Budget 2023, one of her announcements pertained to the old and new income tax regimes.
Also Read: Everything To Know About the New Income Tax Regime 2023
What did Sitharaman announce?
The minister announced changes to tax slabs under the new regime, adding, however, that taxpayers will still be able to select the regime under which they want to file their returns. In case no choice was made, the new tax regime will be default, she said.
Also Read: Confused about old and new income tax regime? Here's a dedicated calculator
What to know about the new tax rules?
Speaking to HT's sister publication Mint, Abhishek Soni, co-founder and CEO, Tax2Win, explained what citizens must know about the new tax rules. "As we usher in the new financial year, and bid farewell to FY 2022-23, we can expect some significant changes coming into effect from April 1, 2023. These changes will involve the introduction of new rules or reforms to existing ones, as announced by the finance minister, in the Budget 2023," said Soni.
Here are a few things one must know about the new rules, as per Abhishek Soni:
(1.) The increase of basic exemption limit (from ₹2.5 lakh to ₹3 lakh) is to make the new regime more 'attractive.' The highest rate of 30% will be levied on annual salary of more than ₹15 lakh.
(2.) The surcharge rate has been reduced from 37% to 25% for those earning more than ₹5 crore annually. Under the new regime, however, this 25% rate is for individuals with yearly income exceeding ₹2 crore.
(3.) Individuals and Hindu Undivided Families (HUFs) can choose between the regimes in every FY (if there is no business income). For those with business income, on the other hand, there will be only one chance to return to the old regime, if they opted for the new one.
(4.) Section 87A rebate is available under both. Also, for those confused which one to opt for, the Income Tax Department has launched a 'calculator.'
(5.) Under a proposal to introduce a standard deduction in the new regime (no changes made for the old one), people will benefit from a standard deduction of ₹50,000.
Key meet today to decide 2022-2023 EPF rate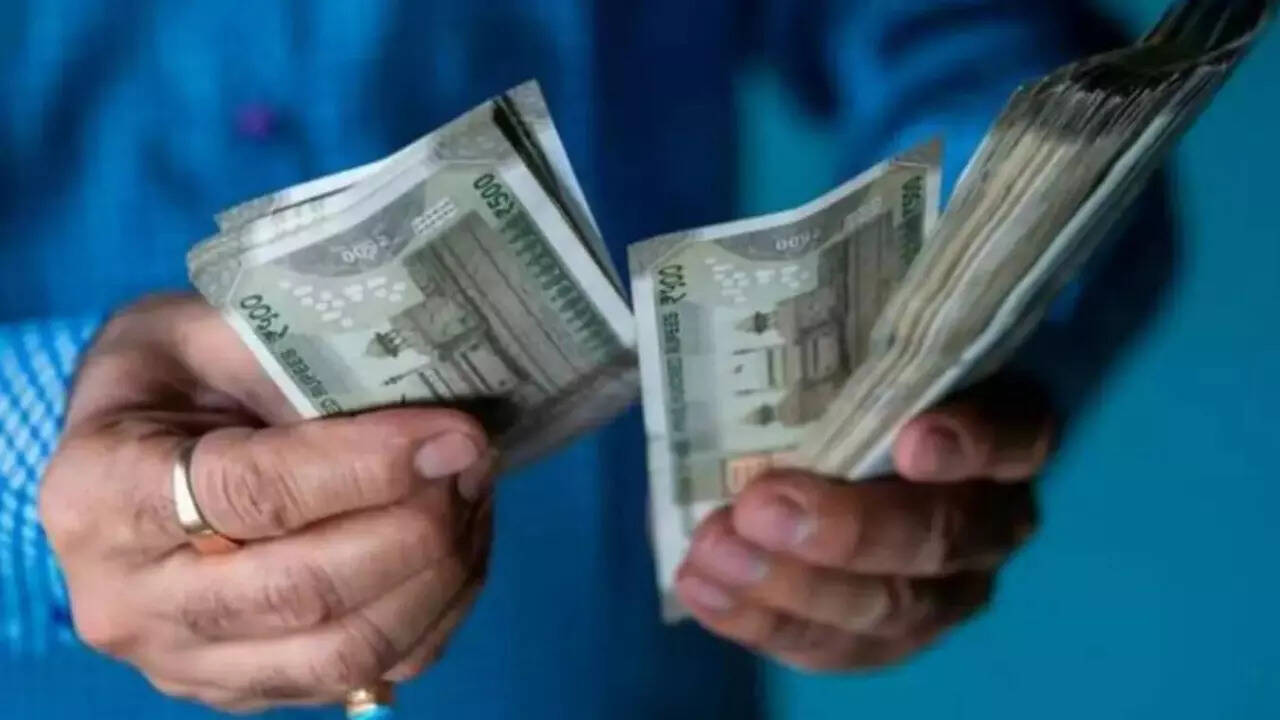 NEW DELHI: The crucial twoday meeting of the EPFO's Central Board of Trustees, which is to declare the EPF rate of interest on the retirement corpus for 2022-23, will begin in the national capital on Monday.
In March 2022, the government had declared 8. 1% EPF rate for 2021-22, the lowest level since 1977-78. It is expected that the interest levels will be maintained at par.
The declara tion of interest comes at a time when government had said interest applicable for 2021-22 is still being credited and was a bout 98% complete till March 6. The delay in EPF interest cred its was attributed to a software upgrade necessitated by the introduction of TDS on annual EPF contributions of over Rs 2. 5 lakh.
Apart from the declaration of interest rates, the meeting assumes significance since the pension fund manager will present a status note on the Supreme Court's November 4, 2022 judgment regarding pension on higher wages, an issue that has led to considerable angst among exsisting and prospective pensioners as a result of procedural complexities in the application process.
In its meeting of the Pension Impleme ntation and EDLI Committee (PIEC) on March 15, EPFO had decided to issue a set of FAQs to "demystify" the apex court judgment and its implications on pensioners. However, des pite the extension of last date of application to May 3, the EPFO has still not issued the detailed explainer, nor clarified the method of deposit or computation of pension. Other agenda items include, among other things, a presentation of the retirement fund manager's revised budget estimates for 2022-23 and budget estimates for 2023-24 for EPFO and the schemes fu nded by it. This comes in the backdrop of PIEC's expression of concern in the March 15meeting over the labour ministry's submission to a parliamentary panel that its budget estimates for 2023-24 were prepared without factoring in the implications of the apex court's judgment, also as this may impact the EPFO rate of interest for 2022-23.
A report of the standing committee on labour tabled in Parliament this month said the ministry told the House panel that the implications of the judgment had not been factored in to the BE 2023-24 allocation.
In a subsequent Action Ta ken Report by the labour ministry, it has said the fund manager has seen a "significant drop" in
EPFO
's acturial deficit as a result of the improvement of the quality of data with respect to the members of EPS-95.
BREAKING: Israel PM fires defense minister who dissented on court plan
Israel PM Netanyahu fires defense minister who dissented on court plan
Israeli Prime Minister Benjamin Netanyahu on Sunday fired Defence Minister Yoav Galant a day after he broke ranks, citing security concerns in calling for a pause to the government's controversial judicial reforms, reported AFP.