Krish on Amitabh Bachchan | SATYAMSHOT

As a kid who grew in the 80s, all i can say that Amitabh is the greatest superstar there has ever been. My first movie of his in theatre was the 5th or 6th rerun of Mr Natwarlal in Anand theatre Thane and that was sometime in 1984 or 1985 when the movie actually came in 1979 and i saw that in a packed house then. Unfortunately the electricity went and we had to come back home sadly 😦
Probably it is during release of Shahenshah when i probably got real taste of his craze as i was slightly older around 12 years. The school that whole week was all about that Mukhtar Singh dialogue etc…
I probably must have seen all his movies of 1970 and 1980s in the 1980s even though the movies were not running and it was hard to see those movies as one needs to rent the video casette etc. The pains we used to go to rent out his older movies like Majboor or Great Gambler and see it is also in some form a tribute to his stardom as it was actually a cumbersome exercise which we were willing to undertake. Movies like Raste ke Pathhar, bAnde Haath etc which didnt do well when released and of which the video casette were not available for anyone to see were considered as some sort of iconic movies purely because they were not seen by anyone. One guy who had seen Parwana was literally a hero as he was only one who had seen it 🙂 Movies where he died in the end were movies which we avoided as no one can come around to see that and left a lump in the throat. And then there was that one scene in each of his movies which was talked about so much it is fresh in memory even today
Kaalia – The Jail scene
natwarlal – The song he sung
Hum – the cockroach scene
MKS – his death scene
Yarana – The dance with lights
Faraar – because it was a negative role
Chupke Chupke – The biology scene
Khoon Pasina/Ram Balram- the fight with tiger (Literally everyone were queueing to see this trash because he fought with a tiger :))
I can go on and recount that 1 scene or dialogue of his every movie which people were thrilled or curious about. Literally all this is nothing but superstardom. Its not just the day 1 footfalls but what stays with you about even some of his trashy movies that defines his superstardom.
Defining AB on basis on ATBB or lack of one – to be honest i was not even aware of all of this as personally i always think every movie of his was a BB then, is a pointless and also a faulty exercise as Marcus said very well earlier.
SRK in isolation is a big superstar and can stand on his own merits and even more so now after Pathaan. AB does not need to figure in this discourse at all
Fifth Rain International Nature Film Festival begins in Muvattupuzha | Entertainment News
Nirmala College in Muvattupuzha, is hosting the fifth Rain International Nature Film Festival (RINFF) this year on March 23-24. 'The Heart of Baikal,' a Russian film in the competition category will be the inaugural movie. It will be screened at 10 am on Thursday at the college auditorium after a function presided over by the college principal, Dr Thomas KV.
As many as 23 feature films will be screened in the competition section. The jury chairman of the international competition segment is noted filmmaker, Girish Kasaravalli. Actress-director Bijaya Jena, and director Kaviyoor Sivaprasad are the jury members.
Noted film journalist Dr Khalid Ali is the international programmer. The concluding film will be the movie selected for the Silver Elephant Prize for the best feature film. Apart from the international competition segment, a contest of short films and documentaries for school and college students is also being organised.
The best film by school students will be awarded the Golden Owl Prize and the best college movie will get Golden Hornbill Prize. Any movie that wins a special jury mention in this category will be awarded the Silver Butterfly Prize.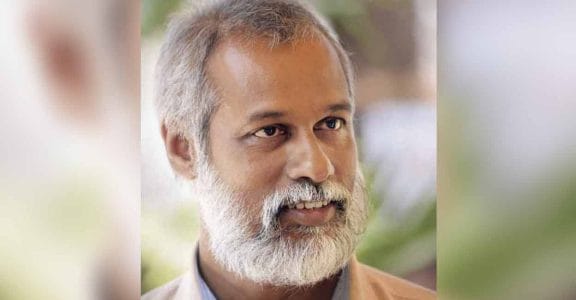 RINFF, organized by Birds Club International and Jayaraj Foundation is the international contest venue where movies aimed at spreading the message of nature conservation compete. This year's 'Prakriti Puraskar', the Golden Elephant lifetime achievement award for the overall contribution towards the conservation of nature will be conferred on renowned environmentalist and writer Dr E Unnikrishnan, who is popularly known as Kavunni.
Noted actor-director-script writer Renji Panicker will be the chief guest. Ace national award-winning filmmaker Jayaraj, who is the festival director, will introduce the guests to the audience.
"This film festival aims to bring together ecologically aware filmmakers from around the world in order to showcase their works, facilitating an authentic platform for raising environmental awareness," Jayaraj said in his message on the eve of the festival. As usual, this year too the winner of 'Prakriti Puraskar' will be inaugurating the festival.
Shoot of Dhanush-starrer 'Captain Miller' inside tiger reserve irks environmentalists | Entertainment News
Chennai: Environmentalists are up in arms against Dhanush-starrer 'Captain Miller', stating that the shooting of the movie was causing problems to wild animals in Kalakad Mundanthurai Tiger Reserve (KTMR) in Tamil Nadu. C Rajeev, director, Centre for Policy and Development Studies, a think tank based out of Chennai, said: "It has to be properly looked into whether proper permissions have been taken for the shooting of the movie Captain Miller near the buffer zone near the KTMR tiger reserve. Local people have complained that the high beam lights are affecting the wildlife, including elephants and tigers besides other animals and environment ministry has to conduct a proper probe as to whether permission has been granted and if so, then how."
A MDMK leader and Keezhavapur Union councillor Rama Udayakumar has already petitioned the district administration to take action against the movie unit.
A big set has been constructed on a private land adjacent to the KTMR and lighting and fireworks are used in the set. The shooting for the movie, produced by Satya Jyothi films, is likely to conclude in mid April.
When contacted, councillor Rama Udayakumar said that the movie unit has damaged the Chenkulam canal bank and filled it with soil. Udaykumar said: "This canal is the lifeline of 15 water tanks as it brings water to these tanks from Cottulam water falls. The forest department must immediately take action. The film crew is stating that they are close to the ruling dispensation."
Local people have also complained to the district forest authorities of the presence of a single Tusker in farm land and said that the Tusker was not going to the forest due to the lighting and fireworks that drives the wild animals out of their habitats.
Tamil Nadu forest minister's office told IANS that they were looking into the matter and will brief media after taking feedback from forest department authorities. The officials of Satya Films were unavailable for comment.
Aishwarya Rajinikanth's driver and domestic help arrested for jewellery theft
Chennai: The Tamil Nadu police have arrested superstar Rajinikanth's daughter Aishwarya's driver and domestic help on suspicion of stealing her jewellery. The arrest was made by the Teynampet police on Tuesday following a complaint lodged by the filmmaker.
According to police, the domestic help Eswari and the driver Venkatesan collided and stole the jewellery kept in a locker at the director's residence.
Aishwarya had lodged a complaint with the Teynampet police recently stating that her ornaments including gold jewellery and diamonds, had been stolen from her flat and named three of her servants as suspects.
On interrogation, police found that Eswari had stolen 100 sovereigns of gold, 30 grams of diamond jewellery and 4 kg of silver.
The Greater Chennai Police, in a statement on Wednesday, said that the duo was arrested on Tuesday.
Eswari was working with Aishwarya for the past 18 years and knew where the key to the locker was kept. She had allegedly taken the jewellery, sold it and bought a house with the money.
The police said that she had stolen the jewellery over a period of time.
Documents related to the purchase of the house were recovered from Eswari's residence.