Rajasthan man becomes first in Asia to undergo total arm transplant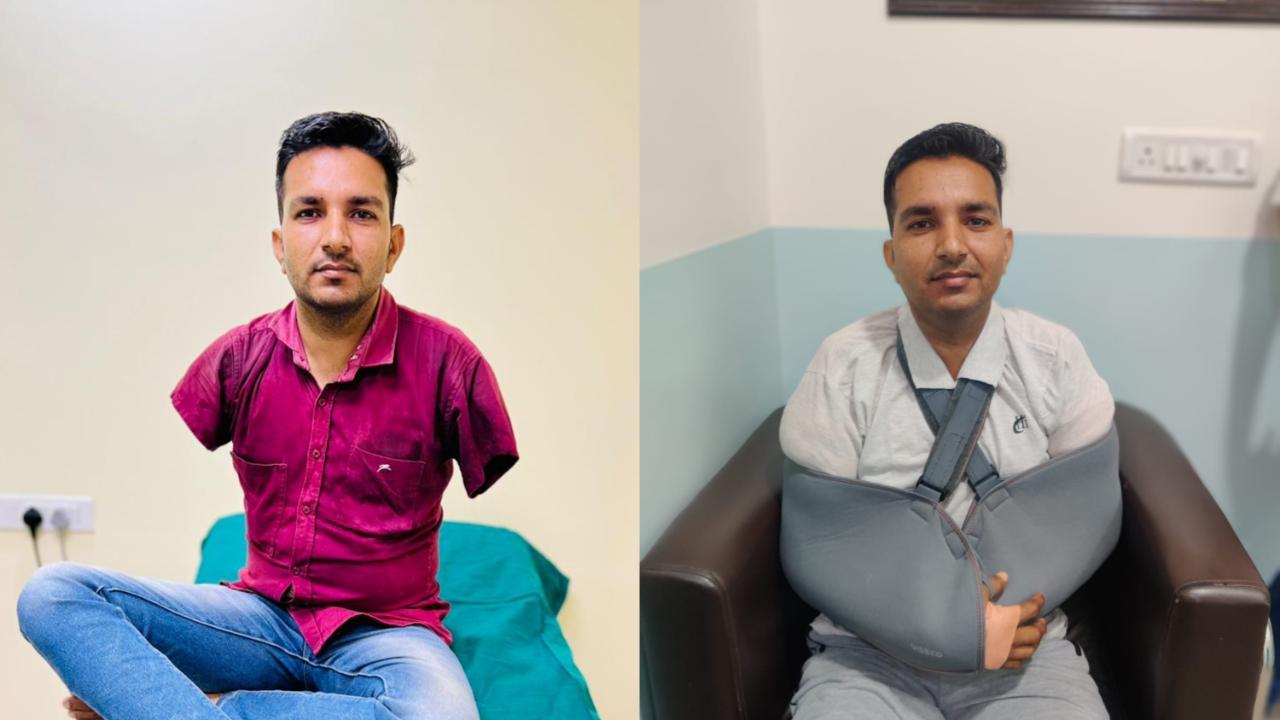 A team led by Dr Nilesh G Satbhai, Head of Department – Plastic, Hand & Reconstructive Microsurgery and Transplant Surgery, Global Hospitals, Mumbai, performed a 16-hour grueling and complex surgery to help the patient rekindle his hopes of leading an independent life.
12 years ago, Mr Prema Ram, a resident of Ajmer, Rajasthan accidentally came in contact with a live electric pole while working in the field. His hands sustained multiple electric burns. He was rushed to a nearby hospital in Ajmer, where doctors advised for amputation of both his hands to save his life. The family took him to Jaipur, but was advised the same.
The patient's family tried to get artificial limbs and prostheses, but that could not give him functional hands. Prema Ram's hands were amputated almost at the shoulder level. This made him extremely disabled and dependent, as compared to other amputees, who lose their hands at below elbow level. His brothers and other family members helped him to do his daily activities.
Performing a hand transplant at shoulder level was considered almost impossible at that time in India. Prema Ram's father also enquired about hand transplant surgery in Europe, but it was too costly and beyond their capacity.
Though Prema Ram lost his hands, he did not lose hope. He continued his education and was hoping to get hands someday. He came to know of the successful hand transplants performed at Global Hospitals, Mumbai and he got registered here in October 2022.
Dr Nilesh G Satbhai, Head of Department – Plastic, Hand & Reconstructive Microsurgery and Transplant Surgery, Global Hospitals, Mumbai said, "This patient was looking for new hands for over a decade. The donor limb matched the patient's hand colour and size. Previously, a bilateral total arm transplant was done in Europe, and this is the first bilateral total arm transplant in Asia.
Doing a hand transplant at such a proximal level is very challenging. It is a race against time. During the procedure, timing and coordination are important so that limbs are attached to the body as early as possible so that blood circulation begins immediately due to a large number of muscles being transferred. Doing the similar surgery on both sides adds up to technical and logistical challenges"
If the transplant is below the elbow, the muscle mass being transplanted is less so the size and weight of the limbs are less. The entire sequence and process of coordination of getting hands, preparing them, attaching them, connecting the blood vessels, and restoring the blood supply has to be perfect so that the hands survive and start functioning. The surgery was performed on the 9th February.
It was uneventful and lasted for 16 hours. The patient was monitored in the hospital for 4 weeks and was discharged on 9th March. His shoulder physiotherapy has already started. The physiotherapy will continue for the next 18-24 months. The patient is expected to achieve reasonable hand function in 18 months.
In exclusive conversation with Mid-day, Ram expresses his desire to help 4-5 more such people from Rajasthan who lost both their arms to accidents. He understands their apathy and wishes to improve their condition through his efforts.
"I was devastated after I lost my both hands. Dealing with amputation was depressing. In the beginning, it was extremely challenging, I struggled every day and every minute. I had to take the help of my brothers and family members for performing my daily chores. In spite of my disability, I didn't give up. I always believed to get some solution for this problem. I wanted do everything just like any normal person. I worked innovatively to get things done without help. I would practice holding things with my legs and establish a grip over everything. I loved life and wanted to make the most of it. I completed my education and B.Ed exams recently. I thank my family members, doctors and the entire team at Global Hospital Mumbai for giving me new hands. I believe, nothing is impossible in this world. I am very happy and looking forward to healing and doing everything on my own," said the patient Mr Prema Ram.
"Artificial hands provide a very limited function to the amputees. A hand transplant is the only option for them to regain useful hand function to live a normal life. Global Hospitals, Parel, a leading transplant center in Mumbai and Western India is well-equipped with cutting-edge technology and performs innovative new procedures for patients. We are proud of this achievement and aim to do more life-saving transplants and fulfill the dreams of the recipients. We strive to create an impact towards hand donations by encouraging people to participate in the organ donation movement," concluded Dr Vivek Talaulikar, COO IHH Healthcare India & CEO Gleneagles Global Hospital, Mumbai.
Mr Anurag Yadav, CEO IHH Healthcare India lauded the entire team for taking up challenging and complex cases. "Mumbai has seen eight Hand transplants till date of which seven have been done at our hospital. Hand transplants are often termed as medical miracles and can be transformative for amputees who have lost functional use of their limbs such as this patient. We strive to raise awareness of the importance of hand donation as that will encourage more individuals and families to consider this option when making decisions about organ donation. This can help to save and improve the lives of many people in need, and bring hope to those waiting for a chance to regain their mobility and independence."
Also Read: This girl gets a `new hand` after 13-hour surgery in Mumbai hospital
Adenoiditis: Causes, who is at risk, signs and symptoms, diagnosis, treatment | Health
Adenoiditis is a type of health condition wherein the adenoids (tissue behind the nose and above the throat) gets inflamed and it is common among children and leads to problems like snoring, mouth breathing, recurrent ear infections, decreased hearing, difficulty in breathing, cracked lips, runny nose and bad breath. Adenoiditis occurs when there is inflammation of the adenoid tissue resulting from infection, allergies or irritation from stomach acid as a component of laryngopharyngeal reflux (LPR).
In an interview with HT Lifestyle, Dr Nitty Mathew, Senior Specialist – ENT at Aster CMI Hospital, revealed, "Adenoiditis is usually caused by an infection of adenoids. Adenoids become apparent by 2 years of age and regress in size after 8 years. If these remain swollen for a prolonged time, then they can become problematic."
Highlighting who is at risk of developing adenoiditis, she shared that since adenoids usually shrink by adulthood, children are most susceptible to its infection. They can be more prone to developing adenoiditis if the child is
● Bottle fed
● Breast fed in lying down position
● Have an infection near the nose or throat
● Suffering from an allergy
According to her, the symptoms of adenoiditis include:
● Stuffy and blocked nose
● Snoring
● Sleep apnea
● Cracked lips, dry mouth
● Glue ear
● Ear pain and infections
● Swollen neck glands
She said, "To diagnose adenoiditis, your doctor will conduct a check-up of your child's nose, ears, mouth and throat. In case the symptoms are worse, your doctor may also suggest he/she undergo an X-ray to see degree of enlargement of adenoids and obstruction of nasal airway."
Talking about the side effects of adenoiditis, Dr Nitty Mathew pointed out that the complications of untreated adenoiditis include –
● Runny nose
● Recurrent ear infections, decreased hearing
● Dry mouth, Dental caries
● Speaking with a nasal tone
● Adenoid facies
The health expert added, "Adenoid facies is defined as the open -mouthed appearance in children, associated with a narrow nose, shortened upper lip, narrow palate, high palatal vault and dental crowding." She concluded, "Usually by 8years of age adenoids regress, but keeping good hygiene can prevent repeated infections. Mild symptoms warrants only supportive treatment, but if your doctor suspects any bacterial infection then the child will have to be treated with antibiotics and then kept on nasal sprays to decrease the size of adenoids. In case the medications are not bringing intended relief of symptoms, then a surgery called adenoidectomy to remove the enlarged adenoids will have to be done."
Researchers explain: What causes long Covid breathing problems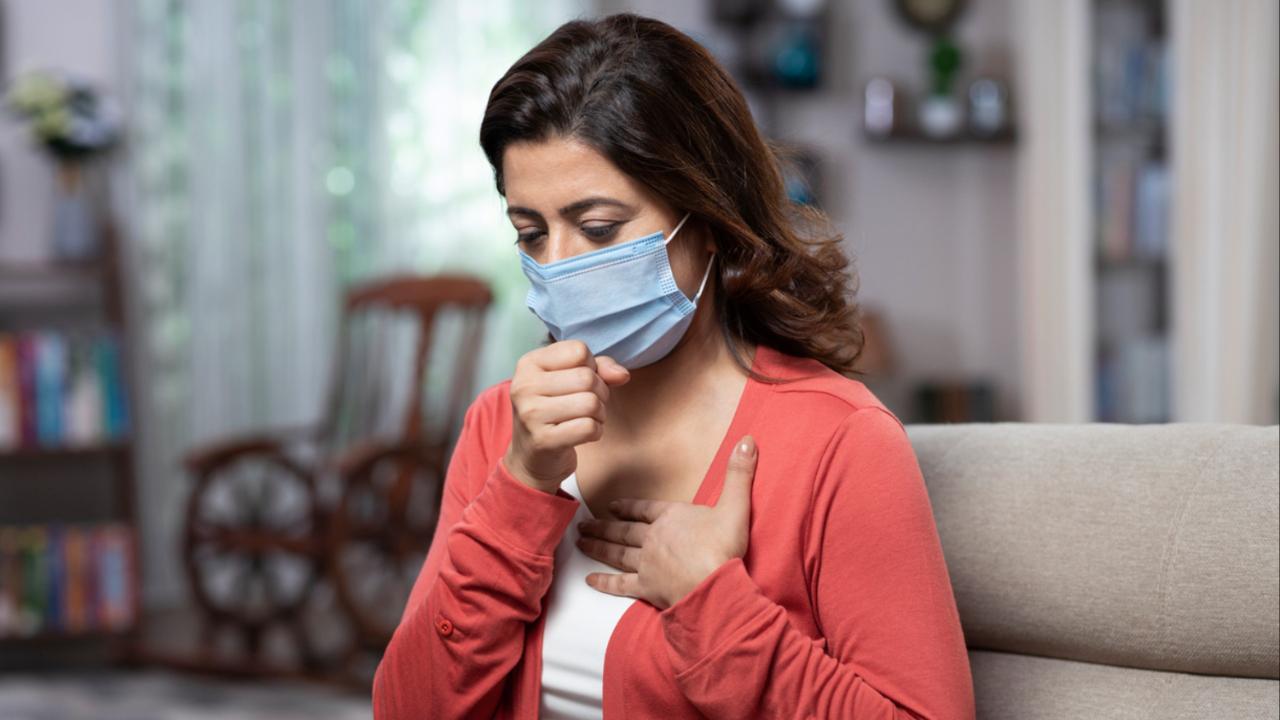 Researchers at Stanford University have found that people are experiencing breathing problems post Covid-19 due to a condition known as lung fibrosis in which the damaged lungs form scar tissue, that makes it difficult for the lungs to expand and contract.
The research showed that overactivity of genes that regulate inflammation and immune responses leads to lung fibrosis.
Long Covid cases can be severely debilitating and resistant to treatment, said Gerlinde Wernig, Assistant Professor of pathology, at Stanford University.
What`s worse, lung function can continue to decline, even without a new Covid-19 infection, Wernig said.
The finding published in the Proceedings of the National Academy of Sciences offers hope that, one day, targeted drugs could intervene to quell the genes behind the damage.
In the study, the team started by looking at lung tissue samples from five Covid-19 patients who had symptoms of the disease — such as shortness of breath — for one or more months. The lungs of people who had symptoms after infection with SARS-CoV-2 looked like the lungs of people with end-stage pulmonary fibrosis.
By analysing single cells from the patients` tissue samples, the scientists also saw similarities in the pattern of RNA production — which can hint a cell`s overall function — between samples of tissue from long Covid patients and samples from patients with pulmonary fibrosis.
"We saw this same pattern across all human Covid lung samples," Wernig said.
As with other lung infections, the initial Covid-19 infection in the lungs kicked off an inflammatory process. In the case of long-Covid patients, however, the immune dysfunction keeps going long after the virus is gone — similar to what happens in chronic pulmonary fibrosis.
To test whether lung fibrosis could be firmly connected to Covid infections, they looked at lung fibrosis in mice infected with a SARS-CoV-2-like virus and found significant increases in fibrosis and immune dysfunction.
"Innate immune cells go crazy after that infection," Wernig said, referring to the part of the immune system that forms the first line of defence against pathogens.
In a mouse model engineered to more closely represent human biology, researchers showed that, when the mice contracted SARS-CoV-2, scarring in the lung tissues shot up, as did levels of immune cells interleukin-6, CD47 and pJUN. There was also a bright side to these experiments.
"When we did the same experiments but blocked CD47 and Il-6, we saw very little fibrosis," Wernig said. "This hints at possible treatments for long Covid involving drugs that carry out targeted immune blockades."
Also Read: Mumbai: All wards have Covid-19 cases; only one critical
This story has been sourced from a third party syndicated feed, agencies. Mid-day accepts no responsibility or liability for its dependability, trustworthiness, reliability and data of the text. Mid-day management/mid-day.com reserves the sole right to alter, delete or remove (without notice) the content in its absolute discretion for any reason whatsoever
89Bio's NASH drug meets main goals of mid-stage study, Health News, ET HealthWorld
New Delhi: Drug developer 89Bio Inc said on Wednesday its treatment for a liver disease called non-alcoholic steatohepatitis met the main goals of a mid-stage trial, sending its shares up 50 per cent in premarket trading.
The company's experimental drug, Pegozafermin, demonstrated at least one-stage fibrosis improvement without worsening of NASH and NASH resolution without worsening of fibrosis in both trial doses.
89Bio said the data supports advancement to late-stage development.