RePharma Summit sees a promising future for Indian Pharma Sector, Health News, ET HealthWorld
Mumbai: Asserting that "the future is NOW," the third edition of the Economic Times' RePharma Summit opened up new avenues of opportunity for redefining the Indian pharmaceutical ecosystem and strengthening it through innovations and technological evolution in drug manufacturing and delivery.
Presented by Anervea, knowledge partner IBM, in association with Salesforce, gold partners Veeva and Wolters Kluwer, analytics partner Qlik, and supporting partners Zota Healthcare Ltd and Davaindia. The RePharma Summit had Nawin Sona, Principal Secretary, Government of Maharashtra, as the guest of honour. Sona shared his insights into the current pharmaceutical scenario in India and the challenges that lay ahead for the sector.
Keeping the focus on India's Vaccine, Diagnostics and Therapeutics Clout, the inaugural panel discussed challenges that went behind making India's vaccine story a success worldwide. The panel discussion moderated by Vikas Dandekar, Editor, Health and Pharma, ETPrime, had Dr Sushil Shah, Founder and Chairman, Metropolis Healthcare, Sanjiv Navangul, Managing Director and CEO, Bharat Serums & Vaccine, Dr Shekhar Mande, Former Director General, CSIR and Shirish Arya, Director, Corporate Strategy & Business Development, ImmunoACT as participants.
In times of medical emergency, the Indian pharmaceutical industry has made a substantial contribution to the fight against the COVID-19 pandemic and its effects by providing affordable global health treatments. As a result, due to its enormous potential, it is predicted that India's pharmaceutical sector will generate $ 130 billion by 2030.
Reaffirming the anticipated expansion of the pharmaceutical industry, Ayush Atal Mishra, Managing Partner and Head of Data Science, Anervea, said, "In the recent years, especially in the post-COVID environment, there has been a significant surge in terms of small towns behaving in adoption of big pharma. And, how prescriptions are made by the doctors as far as small towns are concerned."
Mishra also conducted a partner presentation on 'Next-Gen Data Driven Commercialization for Pharmaceutical Companies in India' adding that there is an upward trend and the new growth markets have opened up in the form of small towns and how India's last mile is finally getting its due share of the right healthcare.
The subsequent panel discussion was on 'Strengthening Indian Pharma through Innovation'. The discussion was moderated by Ganesan V P, Sr Partner and Distribution Sector Leader, India/South Asia, IBM, and the panellists were Sreeji Gopinathan, Global CIO, Lupin, Ganesh Ramachandran, Global CIO, Alkem, Phani Mitra, Head Digital & Process Excellence, India & Emerging Markets, Dr Reddy's Laboratories, and Sujith Eramangalath, Board Advisor, Anervea.
Among the panel members, Sujith Eramangalath, Board Advisor, Anervea, while sharing his experience about the event, spoke about the evolution of the Indian pharmaceutical industry in recent years. Eramangalath said, "The industry is growing leaps and bounds, especially looking at the growth trajectory in the last five years." He added by saying that the adoption of digital technologies has led to tremendous growth not just on the sales and marketing fronts but across the value chain, from manufacturing, supply chain to the final product reaching the market.
In her special address, Geena Malhotra, Global CTO, CIPLA Ltd., spoke at length and in great detail about the role of technology in advancements driving the future of the Indian pharmaceutical industry. Followed by a partner presentation on 'Accelerating Innovation through Life Sciences Industry Cloud' by Varadarajan Srinivasan, General Manager, Veeva Systems, and a partner presentation by Aditi Sharma, Director, Health and Transformation, Salesforce India, another panel discussion on 'Vision of Thought Leaders in Shaping the Pharma Industry' was held.
The summit also had a fireside chat on embracing digitalization in the pharmaceutical supply chain. Moderated by Prabhat Prakash, Senior Digital Content Creator, ETHealthworld, the panelists, Pradeep Gadre, Managing Director, SciTech Healthcare, and Manoj Lekhrajani, Chairman, Pharmapoint, deliberated on the scope and challenges in adopting digital solutions.
Following the fireside chat, Dr Sujit Paul, Group CEO, Zota Healthcare, conducted a partner presentation on 'Pioneering Action to Take the Company to the Next Level and Lead in the Area of Pharma Retail Segment.'
In a crucial discussion on 'IBM: Building Cyber Resilient in the Indian Pharma Industry'. Among the participants, Dr Nikita Ambadaskar, Product Owner- Digital Platforms, Dr Reddy's Laboratories, shared her experience about the summit. She also spoke about the influx of new ideas brought to the digital evolution, like the usage of AI and IOD. "These are not just names now, but are actually giving use cases for businesses to generate good income, unexplored use cases that can influx new as well as smaller businesses existing in a larger ecosystem."
Vipul Jain, Associate Director, SLM Planning, Cipla, spoke about the future prospects of the Indian pharmaceutical industry. Jain said, "Post-pandemic, the industry is reaching new highs. We have seen a surge in the way industry is increasing its depth and spreading its presence worldwide in terms of digital transformation, innovation, and also on the vaccine front. Indian Pharma is leaving its footprint everywhere."
The summit was concluded with the India Pharmaworld Awards, with Sunita Chawda awarded as the 'Emerging Pharma Leader of the Year', Cipla Limited for 'Excellent Use of Technology', Cilacar T JB Pharma for category 'Drug of the Year', Trust Chemists for category 'Pharmacy Chain of the Year', Vivere Imaging Pvt Ltd for category 'Start-up of the Year' and many more. The awards over a wide range of categories are a testimony to the hard work and persistence shown by the industry stakeholders to make India a global powerhouse in the pharmaceutical sector.
Adenoiditis: Causes, who is at risk, signs and symptoms, diagnosis, treatment | Health
Adenoiditis is a type of health condition wherein the adenoids (tissue behind the nose and above the throat) gets inflamed and it is common among children and leads to problems like snoring, mouth breathing, recurrent ear infections, decreased hearing, difficulty in breathing, cracked lips, runny nose and bad breath. Adenoiditis occurs when there is inflammation of the adenoid tissue resulting from infection, allergies or irritation from stomach acid as a component of laryngopharyngeal reflux (LPR).
In an interview with HT Lifestyle, Dr Nitty Mathew, Senior Specialist – ENT at Aster CMI Hospital, revealed, "Adenoiditis is usually caused by an infection of adenoids. Adenoids become apparent by 2 years of age and regress in size after 8 years. If these remain swollen for a prolonged time, then they can become problematic."
Highlighting who is at risk of developing adenoiditis, she shared that since adenoids usually shrink by adulthood, children are most susceptible to its infection. They can be more prone to developing adenoiditis if the child is
● Bottle fed
● Breast fed in lying down position
● Have an infection near the nose or throat
● Suffering from an allergy
According to her, the symptoms of adenoiditis include:
● Stuffy and blocked nose
● Snoring
● Sleep apnea
● Cracked lips, dry mouth
● Glue ear
● Ear pain and infections
● Swollen neck glands
She said, "To diagnose adenoiditis, your doctor will conduct a check-up of your child's nose, ears, mouth and throat. In case the symptoms are worse, your doctor may also suggest he/she undergo an X-ray to see degree of enlargement of adenoids and obstruction of nasal airway."
Talking about the side effects of adenoiditis, Dr Nitty Mathew pointed out that the complications of untreated adenoiditis include –
● Runny nose
● Recurrent ear infections, decreased hearing
● Dry mouth, Dental caries
● Speaking with a nasal tone
● Adenoid facies
The health expert added, "Adenoid facies is defined as the open -mouthed appearance in children, associated with a narrow nose, shortened upper lip, narrow palate, high palatal vault and dental crowding." She concluded, "Usually by 8years of age adenoids regress, but keeping good hygiene can prevent repeated infections. Mild symptoms warrants only supportive treatment, but if your doctor suspects any bacterial infection then the child will have to be treated with antibiotics and then kept on nasal sprays to decrease the size of adenoids. In case the medications are not bringing intended relief of symptoms, then a surgery called adenoidectomy to remove the enlarged adenoids will have to be done."
Researchers explain: What causes long Covid breathing problems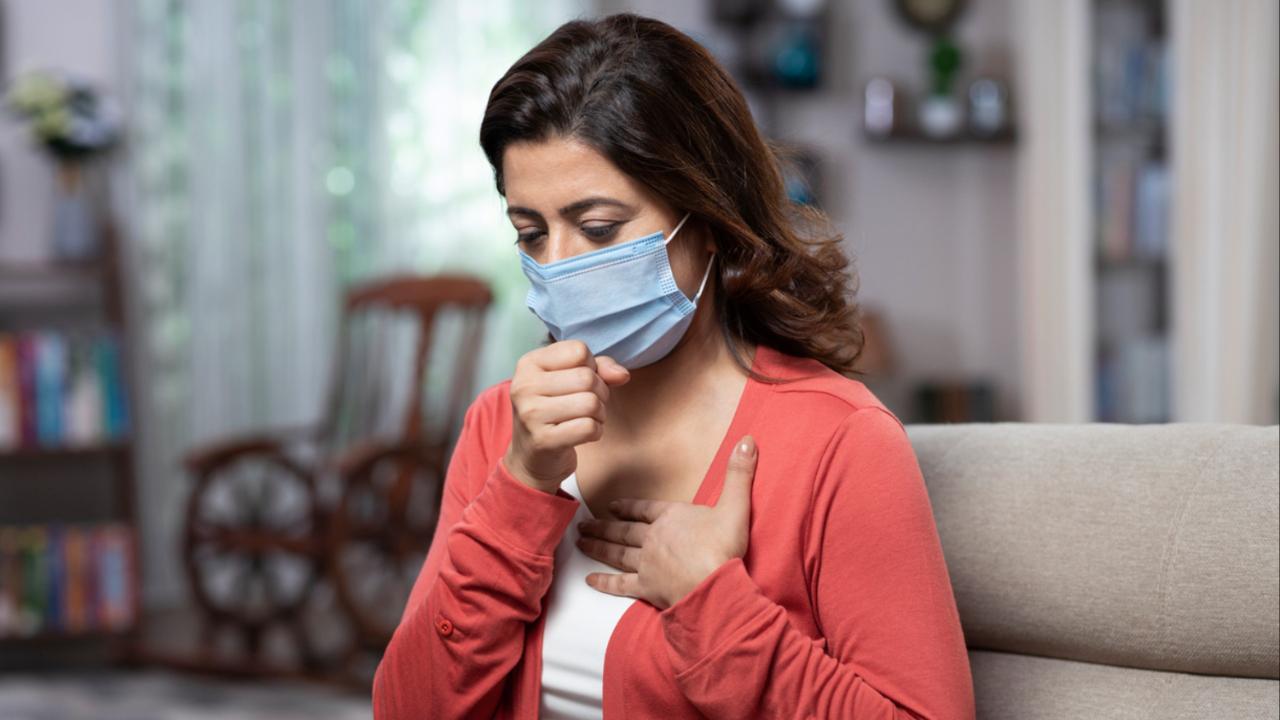 Researchers at Stanford University have found that people are experiencing breathing problems post Covid-19 due to a condition known as lung fibrosis in which the damaged lungs form scar tissue, that makes it difficult for the lungs to expand and contract.
The research showed that overactivity of genes that regulate inflammation and immune responses leads to lung fibrosis.
Long Covid cases can be severely debilitating and resistant to treatment, said Gerlinde Wernig, Assistant Professor of pathology, at Stanford University.
What`s worse, lung function can continue to decline, even without a new Covid-19 infection, Wernig said.
The finding published in the Proceedings of the National Academy of Sciences offers hope that, one day, targeted drugs could intervene to quell the genes behind the damage.
In the study, the team started by looking at lung tissue samples from five Covid-19 patients who had symptoms of the disease — such as shortness of breath — for one or more months. The lungs of people who had symptoms after infection with SARS-CoV-2 looked like the lungs of people with end-stage pulmonary fibrosis.
By analysing single cells from the patients` tissue samples, the scientists also saw similarities in the pattern of RNA production — which can hint a cell`s overall function — between samples of tissue from long Covid patients and samples from patients with pulmonary fibrosis.
"We saw this same pattern across all human Covid lung samples," Wernig said.
As with other lung infections, the initial Covid-19 infection in the lungs kicked off an inflammatory process. In the case of long-Covid patients, however, the immune dysfunction keeps going long after the virus is gone — similar to what happens in chronic pulmonary fibrosis.
To test whether lung fibrosis could be firmly connected to Covid infections, they looked at lung fibrosis in mice infected with a SARS-CoV-2-like virus and found significant increases in fibrosis and immune dysfunction.
"Innate immune cells go crazy after that infection," Wernig said, referring to the part of the immune system that forms the first line of defence against pathogens.
In a mouse model engineered to more closely represent human biology, researchers showed that, when the mice contracted SARS-CoV-2, scarring in the lung tissues shot up, as did levels of immune cells interleukin-6, CD47 and pJUN. There was also a bright side to these experiments.
"When we did the same experiments but blocked CD47 and Il-6, we saw very little fibrosis," Wernig said. "This hints at possible treatments for long Covid involving drugs that carry out targeted immune blockades."
Also Read: Mumbai: All wards have Covid-19 cases; only one critical
This story has been sourced from a third party syndicated feed, agencies. Mid-day accepts no responsibility or liability for its dependability, trustworthiness, reliability and data of the text. Mid-day management/mid-day.com reserves the sole right to alter, delete or remove (without notice) the content in its absolute discretion for any reason whatsoever
89Bio's NASH drug meets main goals of mid-stage study, Health News, ET HealthWorld
New Delhi: Drug developer 89Bio Inc said on Wednesday its treatment for a liver disease called non-alcoholic steatohepatitis met the main goals of a mid-stage trial, sending its shares up 50 per cent in premarket trading.
The company's experimental drug, Pegozafermin, demonstrated at least one-stage fibrosis improvement without worsening of NASH and NASH resolution without worsening of fibrosis in both trial doses.
89Bio said the data supports advancement to late-stage development.