Return of 8 ex-naval officers detained in Qatar is a high priority: MEA | Latest News India
NEW DELHI: India attaches "high priority" to the issue of eight former Indian Navy personnel detained in Qatar since last August and is making efforts for their early return and repatriation, external affairs ministry spokesperson Arindam Bagchi said on Thursday.
The eight men, who were working for Dahra Global Technologies and Consultancy Services, a private firm owned by an Oman Air Force officer that provides training and other services to Qatar's armed forces, have been detained on unspecified charges.
According to reports, their bail pleas have been rejected eight times by Qatari authorities and their detention was recently extended by another month. They were all detained on August 30 last year, and have been held in solitary confinement.
Bagchi told a regular media briefing that the government is fully seized of the matter.
"We attach high priority to the matter. There are continuous efforts by our embassy [in Doha] for resolution of the matter so that early return and repatriation can take place of the detained Indian nationals," he said.
"Our embassy has been seeking consular access. I think one more request is pending so that they can ascertain the welfare and well-being of our nationals and the family meetings and family visits continue to be facilitated."
Indian officials have been given consular access to the eight men on a handful of occasions, and some of their relatives, from both Doha and India, have been allowed to meet them.
A lawyer representing the detained men also joined Indian officials to meet them when consular access was granted for the third time in January.
There has been no official statement from India or Qatar on the reasons for the detention of the eight men, some of them highly decorated naval officers who have commanded major warships. Qatar was one of the first West Asian countries to forge strong defence ties with India and its silence on the matter has baffled experts.
Like-minded Opposition leaders to discuss strategy for floor of house today in Parliament | Latest Updates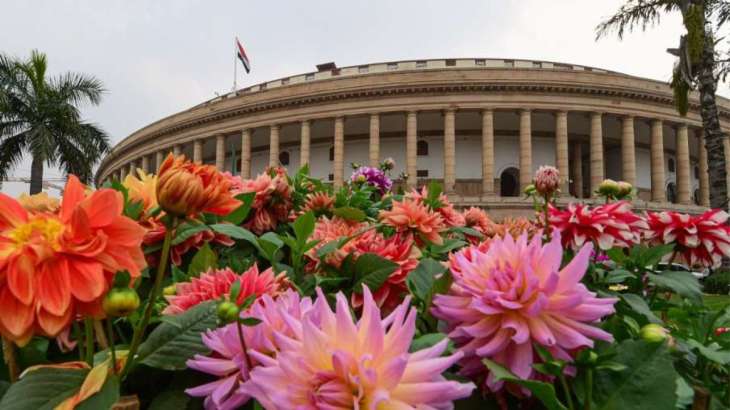 Parliament: The third week of the second part of the Parliament session is underway and with the recently reported incidents of the logjam, like-minded opposition leaders will hold a crucial meeting today. It is being said that the opposition leaders will meet in the Rajya Sabha LoP chamber to discuss the strategy for the floor of the house. 
Opposition is demanding JPC on the Adani issue 
Till now parliament is witnessing a logjam as the Opposition is demanding Joint Parliament Committee (JPC) on the Adani issue and Treasury Benches were demanding an apology from Rahul Gandhi for his speech in London alleging that he defamed the country on foreign soil. 
Parliament session may witness ruckus 
However, after the disqualification of Rahul Gandhi's Lok Sabha membership, the Parliament session is expected to witness a ruckus. Notably, Congress leaders will step up their protest against the Centre on Monday over the Adani issue and disqualification of Rahul Gandhi as MP from Lok Sabha wearing black clothes, party sources said on Sunday.
Congress MPs in the Lok Sabha and Rajya Sabha will attend the Parliament by putting on black clothes. The Congress MPs, including Rahul Gandhi, earlier in August last year, had worn black clothes and staged a protest against the Centre against price rise, GST hike on essential items and unemployment. They had marched towards the Rashtrapati Bhavan as part of their stir against the issues.
Notably, Congress has demanded a Joint Parliamentary Committee probe into the Adani issue and staged protests in the Parliament's ongoing Budget Session.
(with inputs from ANI) 
Pawan Khera apologises for 2022 'tapasya' tweet after Rahul loses Lok Sabha seat | Latest News India
Congress leader Pawan Khera on Sunday apologised for a veiled tweet lamenting the snub by the party for a Rajya Sabha seat last year, saying he has realized his mistake drawing inspiration from Rahul Gandhi who "shuns power" and continues his 'tapasya'. Addressing a gathering at the day-long protest at Rajghat against Rahul Gandhi's disqualification from Lok Sabha, Pawan Khera, Congress's media and publicity department head, said, "If you try to murder democracy, Rahul Gandhi will speak, be it from inside Parliament or outside it." (Also Read | You insult my martyr father, call his son 'Mir Jafar': What Priyanka Gandhi said)
"You (BJP) are afraid when Rahul Gandhi takes the name of Adani, you will shiver when he will do so on the streets," he said.
Referring to his tweet on May 29 last year after his name did not figure in a list of party's Rajya Sabha nominees, Khera said, "I want to apologize to all of you, to my leadership that in selfishness, when I did not get a Rajya Sabha berth, I wrote that 'shayad meri tapasya mein kuch kami reh gayi'. Now I see Rahul Gandhi that he shuns power and still continues his tapasya, what could be bigger than that."
"I apologize to all of you today. I have got inspiration from Rahul Gandhi and Priyanka Gandhi. It is time to fight, to raise one's voice, power comes or doesn't, we will fight and win," Khera told the gathering with party chief Mallikarjun Kharge and other senior leaders on the dais.
At the day-long protest, called 'Sankalp Satyagraha', Congress general secretary Priyanka Gandhi Vadra said the time had come to raise a voice against an "arrogant government" as barring Rahul Gandhi from contesting elections does not bode well for the country and its democracy.
"My family's blood has nurtured democracy in this country. We are ready to do anything for this country's democracy. Great leaders of the Congress laid the foundation of democracy in this country. If they think they can scare us, they are wrong. We will not be scared."
"Time has come and we are not the ones who will remain silent anymore," she told the outside Rajghat.
Rahul Gandhi disqualification: Congress to protest in black clothes in Parliament today | LIVE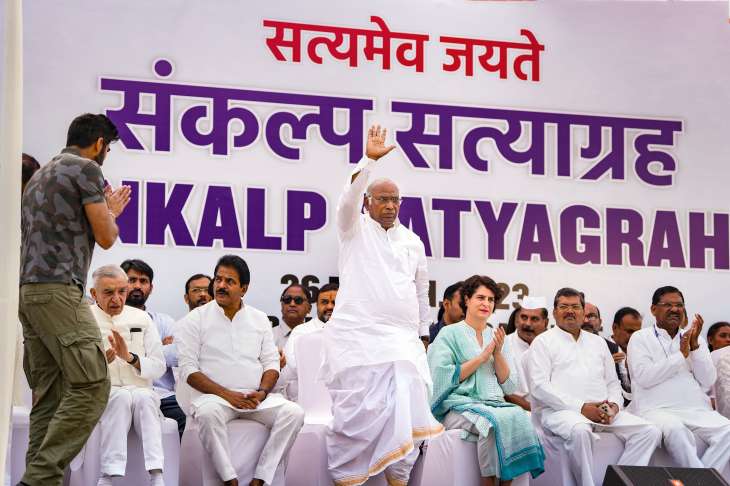 Rahul Gandhi disqualification: Congress MPs will protest against the Modi government wearing black clothes over the disqualification of Rahul Gandhi as MP from Lok Sabha and the Adani issue in Parliament today. Congress MPs will attend the Parliament session today in black clothes. The grand old party on Sunday held a nationwide 'Satyagraha' against Rahul Gandhi's disqualification.