Rishab Shetty's film Kantara screened at The United Nations; shares photos from screening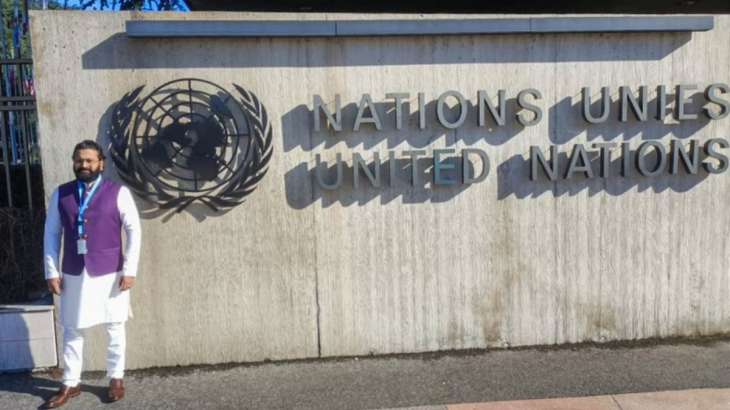 One of the most successful movies of 2022, Kantara added another proud moment for India. The movie was recently screened at the United Nations and Rishab Shetty has shared the pictures from the screening as well. On March 16, Rishab submitted an oral statement at the UN as a representative of ECO FAWN, a conservation non-profit from India. According to a tweet by the Centre for Global Affairs and Public Policy (CGAPP). Rishab will also join the UN diplomats for a private dinner, reports state.
Sharing the photos on his Twitter handle, Rishab wrote, "Proud to represent ECO FAWN in submitting Oral Statement at UNHRC. The significance in the promotion of cultural rights of forest dwellers and protection of forests in Kantara is deciphered at the international forum."
This comes just a few days after Kantara won four awards at the 4th Chandanavana Film Critics Academy Awards. While actor and director Rishab won the Best Actor award, his movie was also honoured with the Best Film by movie critics, Best Music award and Best Stunt/Action award. Meanwhile, fans are now also waiting eagerly for Kantara prequel which was announced in February this year by Shetty. Back then, he shared that what the audience was was actually part 2 and therefore what will be released next will be Kantara's prequel.
About Kantara
Written and directed by Rishab, the period action thriller received an overwhelming response upon its release in theatres on September 30. Reportedly mounted on a meager budget of Rs 16 crore, the movie has earned over Rs 500 crore worldwide at the box office. The story of Kantara is set around a small community living in the woodlands of Kaadubettu in the southern coastal state of Karnataka. Weaving an interesting plot of human versus nature conflict, where death leads to war between villagers and evil forces and Shiva, a rebel defends his village and nature.
Also Read: Aditya Roy Kapur gets video call from the 'OG Night Manager' Tom Hiddleston; fans react
Also Read: Why did Naatu Naatu singer Kaala Bhairava apologise days after Oscar win for RRR song? Know here
Dil Hai Bholaa: Ajay Devgn's much-awaited Bholaa anthem will give you goosebumps | WATCH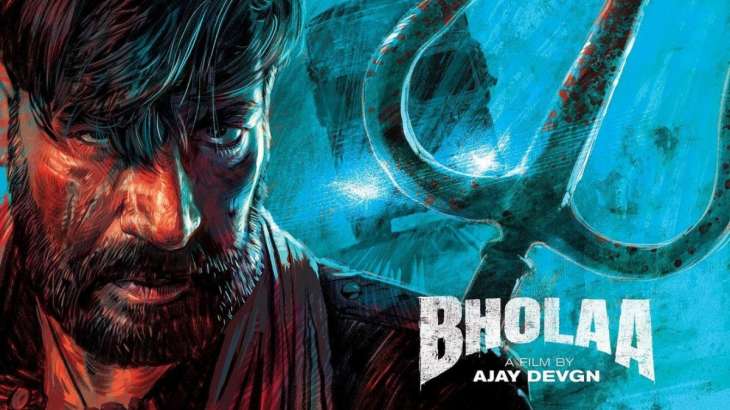 Bollywood's Singham, Ajay Devgn is all set to roar on the big screen once again. Post the super success of his last release Drishyam 2, Ajay Devgn is back with a new action-packed release Bholaa. The movie also features his Drishyam 2 co-star Tabu in a pivotal role. After sharing 'Nazar Lag Jayegi', 'Aadha Main Aadhi Wo', and 'Paan Dukaniya' the makers are now out with Dil Hai Bholaa song.
Ajay took to his Instagram handle and dropped the new song from Bholaa, titled Dil Hai Bholaa. Sharing the same, he wrote in the caption, "The Bholaa Anthem you've been waiting for. #DilHaiBholaa Song Out Now! #BholaaIn3D #BholaaOn30thMarch."
As soon as the song was dropped, fans chimed in the comments section and shared their reactions. An Instagram user commented, "Three National Award winner Superstar Ajay devgn Bholaa Movie Better Than Kaithi Movie. Bholaa Beat kaithi In the first Weekend . IMAX 3D Wonderful Experience in Bholaa," a fan wrote, "Bhoot khoob bhaiya ji Ajay bhaiya ji super dupar hit," and others also dropped hearts.
Bholaa is a remake of a 2019 hit Tamil film 'Kaithi. The movie tells the story of an ex-convict who is forced to help a cop bust a drug raid in return to let him meet his daughter. Ajay will be seen in the role played by Karthi in the original. Directed by Ajay Devgn, Bholaa also features powerhouse actress Tabu. She will be seen playing the role of a police officer. It is being produced by Ajay Devgn with Bhushan Kumar, Krishna Kumar, SR Prakashbaby, SR Prabhu and Reliance Entertainment.
Bholaa also features Deepak Dobriyal, Sanjay Mishra, Vineet Kumar, and Gajraj Rao in key roles. Abhishek Bachchan is also a part of Bholaa in a special appearance. The movie will be released in theatres on March 30, 2023.
Also Read: Late director Pradeep Sarkar was working on his dream project; reveals producer | Deets inside
Also Read: Pooja Bhatt tests positive for Covid-19, requests people to wear mask
Surprising Facts About John Wick 4
The fights are very chaotic; I'm thinking the one in the hotel and the one at the Arc de Triomphe. Were those hard to choreograph and did anything go wrong?
Chad: Choreography, I think, by its nature is fun. It's supposed to be difficult, you're supposed to figure it all out and that's the fun part. Did anything go wrong? I mean, there were no incidents, no animals or humans were hurt, but sometimes the moves don't quite do what we're supposed to do. But that's the fun part!
Keanu: The stunt guys were amazing. Like, in the Osaka Continental scene, there was this kid who just threw himself down an escalator.
Chad: Oh, yeah, I forgot about that.
Keanu: He just did it!
Chad: If we're going to do an escalator fall, it's a little different…
Keanu: Cos it's steel.
Chad: Yeah, and keeps going. Our stunt performer looked at it and we were like, "are you sure?" He's like, "yeah, I'm sure", and then just launched it into. We were like, "yeah that was pretty good".
Discover the world of Mashle: Magic and Muscles – Everything you need to know
Are you ready for the ultimate magical shonen experience? Look no further than Mashle: Magic And Muscles, the upcoming anime adaptation of the popular manga series. With a unique twist on the magical world trope and a cast of talented voice actors and production staff, Mashle is sure to captivate audiences when it airs on April 7, 2023. Here's everything you need to know about the series before it premieres.
Join Mash at Easton Magic Academy – Can he keep up the facade and outwit his magical peers?
In a world where magic is everything, Mash stands out as an anomaly. He is unable to use magic but makes up for it with his incredible physical strength and combat abilities. When he and his adoptive father are threatened by those who despise non-magic users, Mash must enrol in a school similar to Harry Potter's Hogwarts, Easton Magic Academy and pose as a Divine Visionary to protect his family and achieve peace. But can he keep up the facade and outwit his magical peers?
Meet the star-studded cast and production team behind Mashle: Magic And Muscles
Mashle: Magic And Muscles boasts an impressive cast of voice actors and production staff. Yuuki Kaji, known for his role as Eren in Attack on Titan, joins the series as Rayne Ames, one of the Divine Visionaries at Easton Magic Academy. Yuichiro Umehara, who played Mars in Black Clover and the titular character in Goblin Slayer, voices Abel Walker, the leader of the school's secret organization Magia Lupus. Hiroki Nanami, who portrayed Asakura Haou in Shaman King, voices Abyss Razor, another member of Magia Lupus. (Also Read: Spring 2023 anime season is here – Checkout Cruncyroll's complete April lineup)
The anime is directed by Tomonari Tanaka of A-1 Pictures, who has previously worked on Bungo Stray Dogs, Hunter X Hunter, and Cyberpunk Edgerunners. The script is written by Yousuke Kuroda, whose impressive resume includes Honey and Clover and Mobile Suit Gundam 00. Finally, Masaru Yokoyama, who composed the music for Fruits Basket, Astra Lost in Space, and Your Lie in April, will lend his talents to the series.
The official trailer promises an action-packed thrill ride
The official trailer for Mashle: Magic And Muscles promises a thrilling ride, with Mash showing off his combat skills against a variety of magical foes. The animation is top-notch, with fluid movements and dynamic fight scenes. Fans of shonen anime won't be disappointed by the action-packed trailer.
Where to watch Mashle: Magic And Muscles?
Crunchyroll has announced that it will be simulcasting Mashle: Magic And Muscles, meaning fans around the world can tune in to the premiere on April 7. Whether you're a fan of the manga or discovering the series for the first time, the simulcast allows everyone to experience the excitement of the series together.
Mashle: Magic And Muscles is shaping up to be one of the most exciting new anime releases of the 2023 spring season. With a unique premise, talented voice actors and production staff, and stunning animation, the series is sure to please fans of shonen anime and beyond. Don't miss the simulcast premiere on Crunchyroll on April 7 and witness Mash's incredible strength and courage as a Divine Visionary.