RRR, The Elephant Whisperers, All That Breathes: India's global success should be celebrated and not criticized | Hindi Movie News
RRR
's Naatu Naatu, The Elephant Whisperers and All That Breathes created history at this year's Oscars. All three films were nominated in three distinct categories. Composer MM Keeravani-lyricist Chandrabose won for Naatu Naatu in Original Song while director Kartiki Gonsalves and producer Guneet Monga won for The Elephant Whisperers in Documentary Short Film category. They brought glory and pride for Indian cinema on the world stage. Despite not bagging the award for Documentary Feature Film, director Shaunak Sen's All That Breathes also proved that India is telling compelling stories and the world is listening with rapt attention.
When Guneet Monga arrived at Mumbai airport flashing her gold Oscar statue, she was given a hero's welcome. She was garlanded, showered with rose petals and bombarded with non-stop flashes from photo and video cameras. A producer was getting acquainted with the life of an A-list actor. That's exactly what India is feeling and doing for its Oscar winners. But, the rule of yin and yang cannot be ignored. For every hurrah there's also a fisticuff as people argue All That Breathes was let down by the Academy Awards jury. Elsewhere, politicians have taken potshots at each other creating jibes that the country's ruling party did not make RRR. Controversy be damned. There's no need to tarnish the celebrations and feeling of euphoria.
In this week's Big Story, ETimes chronicles the hard work it takes to make an impact on a global platform like the Oscars. We also take a look at how awards winners and runner-ups should react to unwarranted criticism and controversy. Read on…
'Going global is no cake walk'
Aamir Khan's Lagaan was nominated in the Best Foreign Film category at the Academy Awards back in 2002. This year three films made it to the competitive categories at the Oscars. It took more than 2 decades to return to the big stage and that just shows how challenging the feat really is. Meenakshi Shedde, who is an independent curator for multiple film festivals around the world and is a key person to take Indian cinema and talent to Berlin Film Festival, explains the kind of effort it takes to represent India on a global scale. She says, "RRR's Oscar win for Naatu Naatu for Best Original Song is a hard-won global victory, indicating a majority vote of faith by Oscar members, winning over high profile competition from Rihanna, Lady Gaga, and others, on top of a very expensive awards lobbying and media campaign, as well as recognition in the US."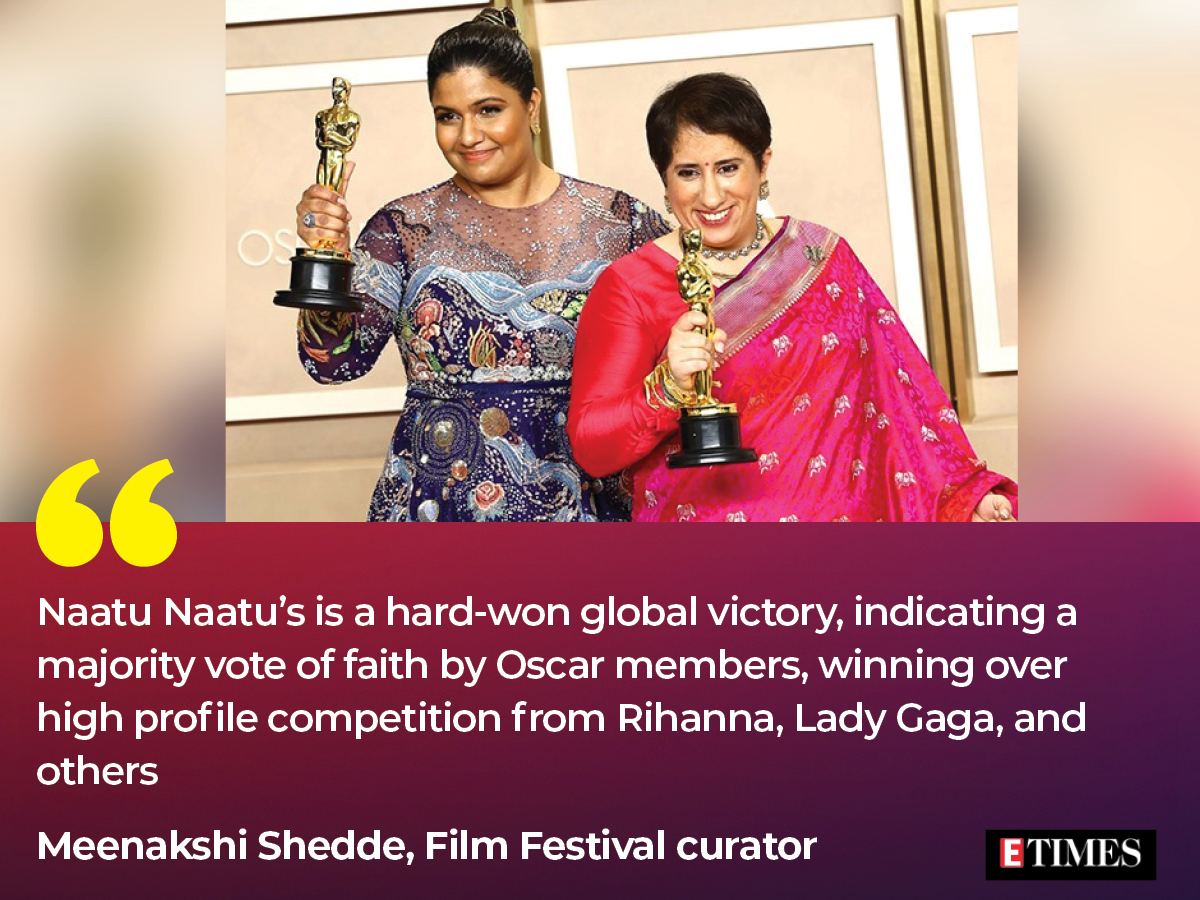 A senior filmmaker from the Telugu industry reveals to ETimes that RRR's Oscars campaign was worth multiple crores of rupees. He says, "Every big film in Hollywood has to hire an agency that helps create awareness about the film in the US so that the Academy's 10000 members are able to identify films as worthy contenders. Likewise, team RRR functioned under the vision of SS Rajamouli's son SS Karthikeya and created an elaborate campaign to promote and create awareness for the film. I have been told the entire exercise which lasted for more than 6 months may have cost more than $ 6 million. It takes a lot of hard work to get noticed in the right circles."
Producer L Suresh, who has made Telugu hits like Billa (2007) and Ooruku Nooruper (2001) explains that any producer aspiring to make an impact in the west needs to showcase dedication and commitment. He says, "Getting shortlisted and sent to the Oscars as India's official entry is just the beginning. RRR wasn't the final selection from India, yet it made a big impact. The film's producer has to work dedicatedly towards making their film known. It takes not just financial strength but mental strength as well, to go to unfamiliar markets and create a space for your film. Winning over an international jury or audience is never an easy task."
There was also speculation last year that questioned India's official entry to the Oscars – the Gujarati drama Chello Show's selection. TP Aggarwal, producer and President of IMPPA explains, "What was wrong with sending Chello Show to the Oscars? No politician has the right to comment on the film industry. The industry functions like a family and in this case, the jury took a call to send a film based on consensus. And the important thing to note is, the jury was composed of members from every region of India. We had jury members from Mumbai, from Kannada, from other Southern states as well. Voices from all over the country were represented and they all took an informed decision."
That's why it's absolutely tantamount that these artists and their creations are given their due. They have put Indian cinema at the top of the global charts and whether it is RRR, The Elephant Whisperers or All That Breathes, all three projects have taken years to plan, execute and present to the world.
'Not winning is not a big deal'
Director Shaunak Sen's All That Breathes didn't win the Oscar and a section of Indian social media exploded in protest. Actor-comedian Vir Das shared his opinion on Shaunak's film in a tweet that said, "Heartbroken for #AllThatBreathes I thought it was the best documentary hands down. A beautiful beautiful film." And just like that Indian twitterati launched into a scathing attack on the Academy Awards jury with some insinuating that they snubbed the documentary.
Soon enough Shaunak took to his Instagram to play all the speculations down as he wrote, "So many chin-uppy messages of encouragement/support since yesterday. We were low for about an hour, but were soon distracted into equanimity amidst the whirl of glittery people and things. Brain is still to wrap around the fact that this is the end of this chapter. Next we'll be working hard to figure India distribution (HBO has ended it's deal in India with Hotstar it appears, and we're figuring out which platform it'll come out on now). For now, very very nice to share this bizarre, swollen day with the brothers, and so many members of our crew. Hugest congratulations to all the winning films from India!" It was just the right messaging that the trolls needed to shut up.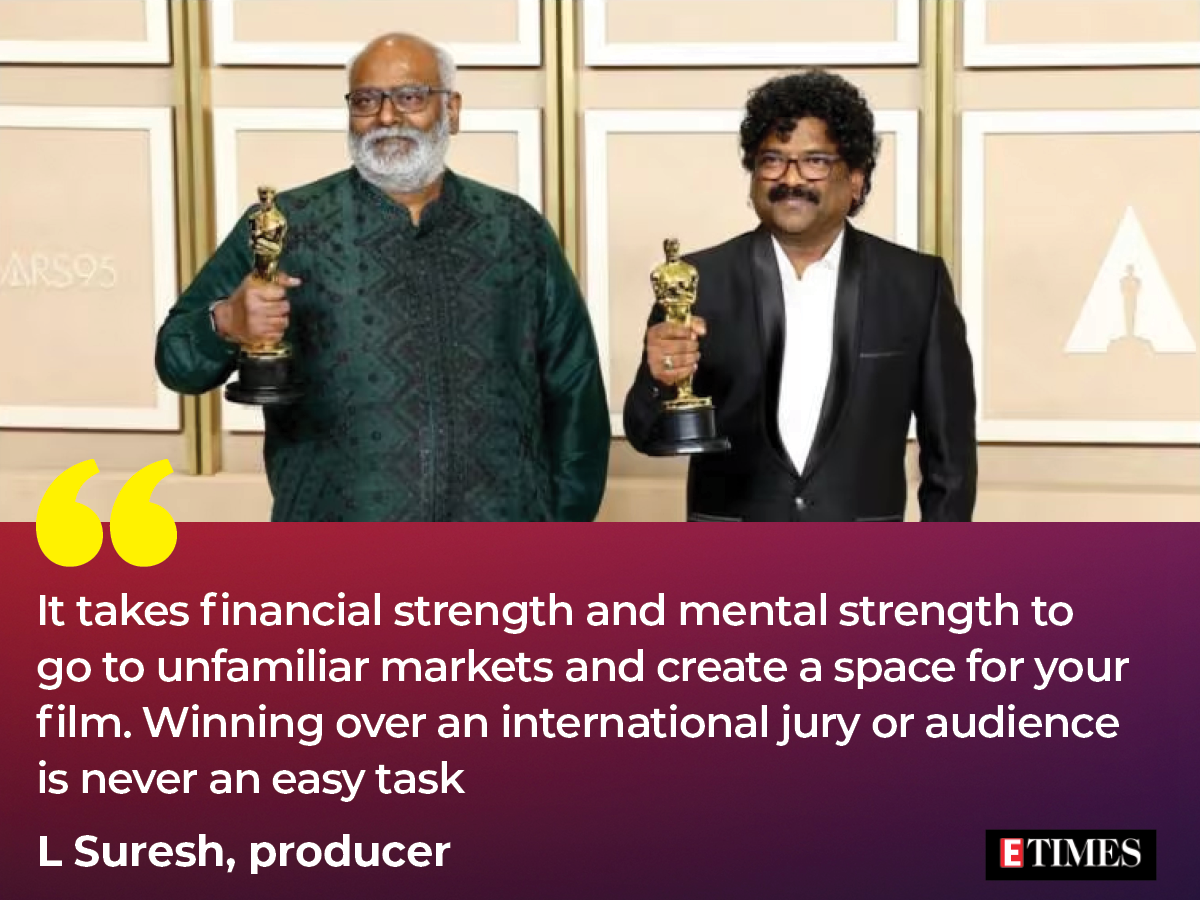 Meenakshi appreciates Shaunak's resolve and says, "Shaunak Sen and team have been incredibly gracious even though their very deserving film All That Breathes lost out on an Oscar for Best Documentary." Film analyst and expert Sreedhar Pillai chimes in, "Setbacks are a part and parcel of the process of awards. A filmmaker has to deal with setbacks on multiple levels. The film will be nominated but won't always win on a local level, national level and even international level. Dealing with the setback is just normal, there's nothing you can do about it."
Producer, author and film expert Nasreen Munni Kabir feels rising above a setback is what art is all about. She explains, "There are many artists who were never recognised fully in their lifetime, take Van Gogh he died unsung. But it is the work that must have a long life. And only time judges these things."
'Dealing with uncalled-for controversy'

Shortly after The Elephant Whisperers won the Oscar, individuals surfaced online to claim that the documentary's subjects, Bomman and Bellie, a couple from South India, hadn't even seen the film nor were they aware of the film's Oscars nomination. Director Karthiki Gonsalves had to step forward and assure everyone that Bellie and Bomman had indeed watched the 41-minute film, loved it and endorsed it, too.
Likewise, during a heated budget session argument in the Parliament, a leader of opposition brought up RRR in the debate and asked the country's Honourable Prime Minister to not take credit for making the film. Both cases were uncalled for, serving as a reminder that more often than not, Indian films and filmmakers become soft targets for political and social gain.
Meenakshi reasons, "Justified criticism is fine, but social media has also opened up opportunities for disgruntled, attention-seeking individuals and groups to freely vent, and feel self-important by taking down people and films, without justification or reason. So sadly, a lot of good work shrinks in the face of aggressive trolling and online abuse."
Filmmaker Faraz Arif Ansari, who made the acclaimed LGBT romance Sheer Qorma says, "I believe anyone who has an individualist, creative voice becomes an easy target these days. It has become one of those unsaid curses in the times we live in. The bad comes with the good. The better comes with the worse. One just has to have the courage to embrace it all and put one's heart into the process of creation. The rest is all just noise."
Filmmaker Vasan Bala agrees as he says, "Films and film personalities are easy targets world over always. They make click bait views now and earlier they sold tabloids. Every space that gives so much potential to earn wealth and fame will be competitive and the criticism will be to those extremes too."
'Should artistes speak up against trolling?'
Kartiki Gonsalves came ahead and cleared the air about the allegations against The Elephant Whisperers. Shaunak addressed the issue of being ignored in a subtle manner. Rajamouli and his team abstained from commenting on any unfair comparisons or misdirected salvos where 'RRR' got referenced. The process of dealing with trolls depends on the individual but there is a prevalent thought that silence has its own benefits.
Nasreen explains, "Any creation is going to be seen by very individual and subjective eyes — so it is open to millions of interpretations. You see a film scene in one way and I see it in another. So artists cannot please everyone. That is a given. The field of performance is competitive, but every profession is today, like selling a car for example! A dignified silence is best." Meenakshi endorses the thought stating, "Silence or ignoring criticism can also be a powerful weapon and put down, and social media users typically have very short term memory."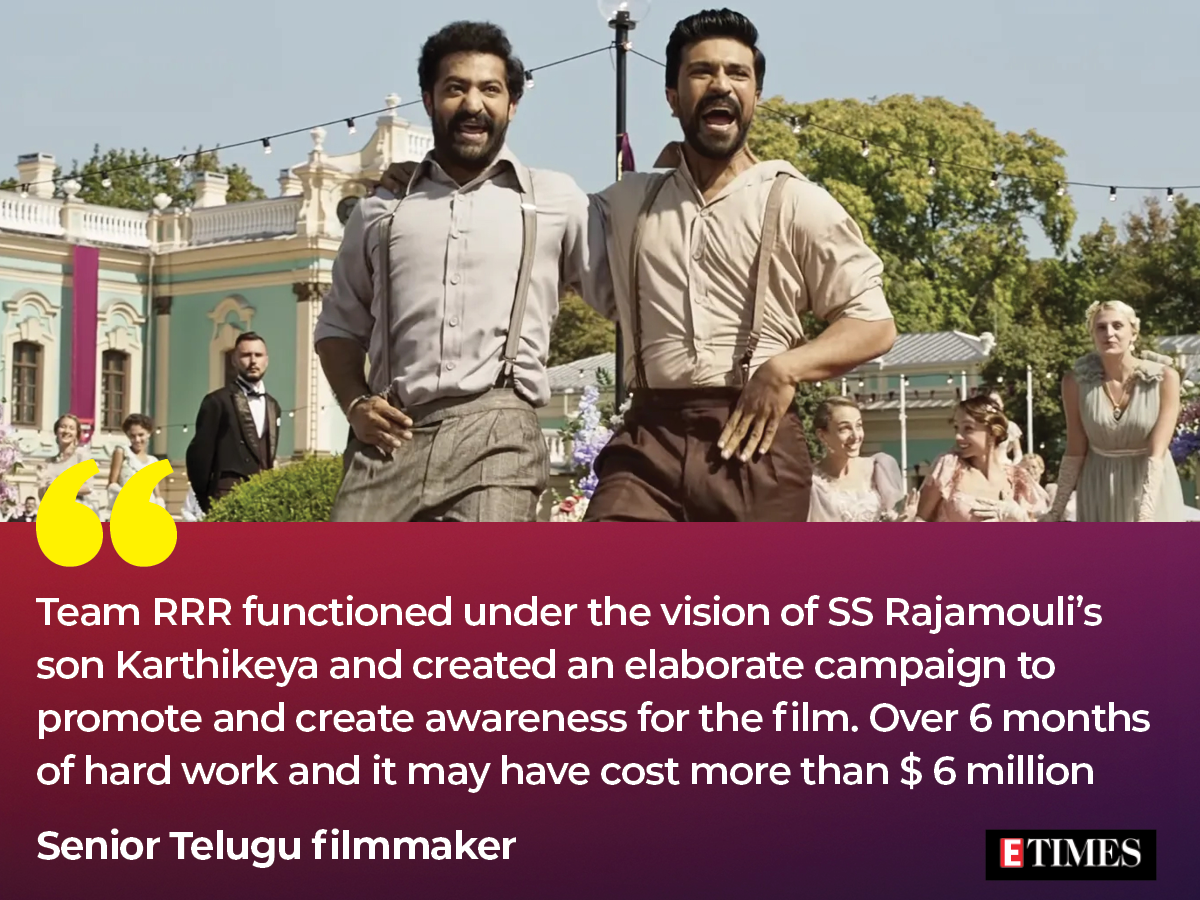 Vasan Bala subscribes to the 'to each his own' theory and says, "No one owes any explanation to anyone on these things. Jisko jo karna hai kare, apni apni personality ke hisab se." Faraz offers a more personal appraisal as he says, "It is so easy and to sit and type away hatred across your phone screens but I've also seen that in real life, things are a little different than that. At the start of my career, trolling used to take a toll on me but now, with time and experience, I've learned that it is okay to embrace everything and move forward. In a way, no victory or defeat is ever final."
Faraz sums it all up when he says, "Awards and recognitions are great. But one must remember the true reason for cinema and art to exist — it is to bring change. Entertainment is of course the DNA of cinema but what embraced that DNA with a beating heart is the want to create a better, more inclusive world than we live in currently." Now that's an award-winning discourse alright.
Nawazuddin Siddiqui's brother makes BIG accusations; takes a dig saying 'this is emotions not allegations'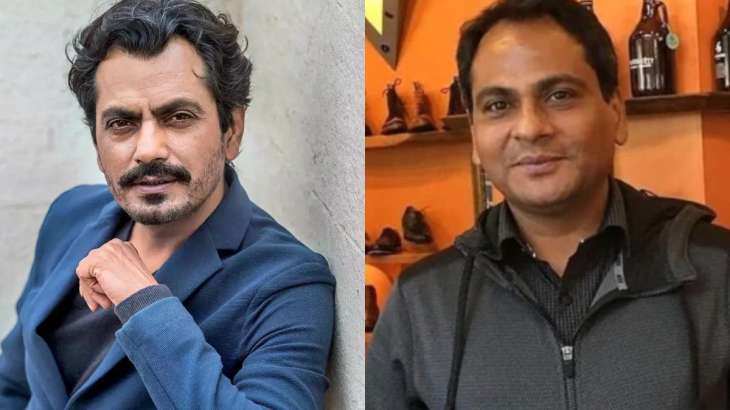 Bollywood actor Nawazuddin Siddiqui has been in the headlines lately for the ugly feud with his wife Aaliyah Siddiqui and a rift with his brother Shamas. While many allegations have been made against the actor by his wife and brother, the actor only once opened up about the same in a long social media note. Now, Nawazuddin's brother has again hit at him and made some big accusations in a Twitter post. Shamas questioned the actor over his personal life as well as his defamation cases. He also revealed that he filed a case against the actor demanding back his 'youth and 11 years'.
Nawazuddin Siddiqui's brother Shamas in a long note said, "Dear brother, what happened to the 100 crore defamation cases that you have filed against ANI and others? Are you done – what happened to them? Are you spending money just to be in the news? Are you trying to show that your value is 100 crores, or are you a child that everyone is troubling you? Your value as a human being is 0 – the value of a human being is known to the people around him and we all know and. You will understand soon my Hitler Babu."
He added, "Instead of the 100 crore defamation case, pay more attention to the producer's 150 crores, which you have drowned. 9 films are stuck because of your poor statements. Even as an actor, your value has remained zero. Means Hitler's influence is so much that you will blame anything on people."
"You cannot return my 11 golden years, now will I cover up your dark deeds now. My fault is that because of my career, I decided to support the truth. I have filed a case against you in the upper court to return my youth and 11 years back," concluded Shamas.
The actor's brother tweeted that Nawazuddin has had three marriages. He was married to Isha during the lockdown. The first wife is Firoza who is from Haldwani. Further, Shamas also accused the actor of misbehaving with his sister-in-law and kicking her during her pregnancy.
Earlier, Nawazuddin Siddiqui in a social media post reacted to the allegations by his wife Aaliyah and said, "This is not an allegation but expressing my emotions." Taking a dig at the same, Shamas also captioned his tweet saying, "Dear Brother #NawazuddinSiddiqui , this is also emotions not allegations."
In his post, Nawaz said, "I am termed as a bad guy everywhere because of my silence. The reason I have kept quiet is because all this tamasha will somewhere be read by my small children."
He added, "First of all me and Aaliya do not stay together since several years, we are already divorced but we definitely had an understanding only for our kids.(sic)" He also added, "Does anyone know, why my kids are in India and not attending school for 45 days, wherein the school is sending me letters everyday that it's been too long an absence. My kids have been made hostage for past 45 days & are missing their schooling in Dubai."
"She had abandoned the kids in Dubai for the last 4 months before calling them here on pretext of demanding money. On an average, she is been paid approx 10 Lakhs per month for past 2 years and 5-7 lakhs per month before moving to Dubai with my children, excluding the school fees, medical, travel and other leisure activities. I have also financed her 3 films costing me crores of rupees, just to help her set up her income stream, since she is the mother of my kids. She was given luxurious cars for my kids, but she sold them and spent the money on herself. I have also bought a lavish sea facing apartment in Versova, Mumbai for my children. Aaliya was made the co-owner of the said apartment as my kids are small. I have given my children a rented apartment in Dubai, where she was also living comfortably."
Just before Nawazuddin Siddiqui's post, his wife Aaliyah had shared a video and accused him of throwing her and their kids out of the house. Nawazuddin Siddiqui and Aaliya Siddiqui got married in 2009 and are parents to two children- a son named Yaani and a daughter named Shora.
Shreyas Talpade reveals story behind Allu Arjun's popular dialogues 'Pushpa jhukega nahi' and 'Flower nahi, fire hai main' from 'Pushpa: The Rise' | Hindi Movie News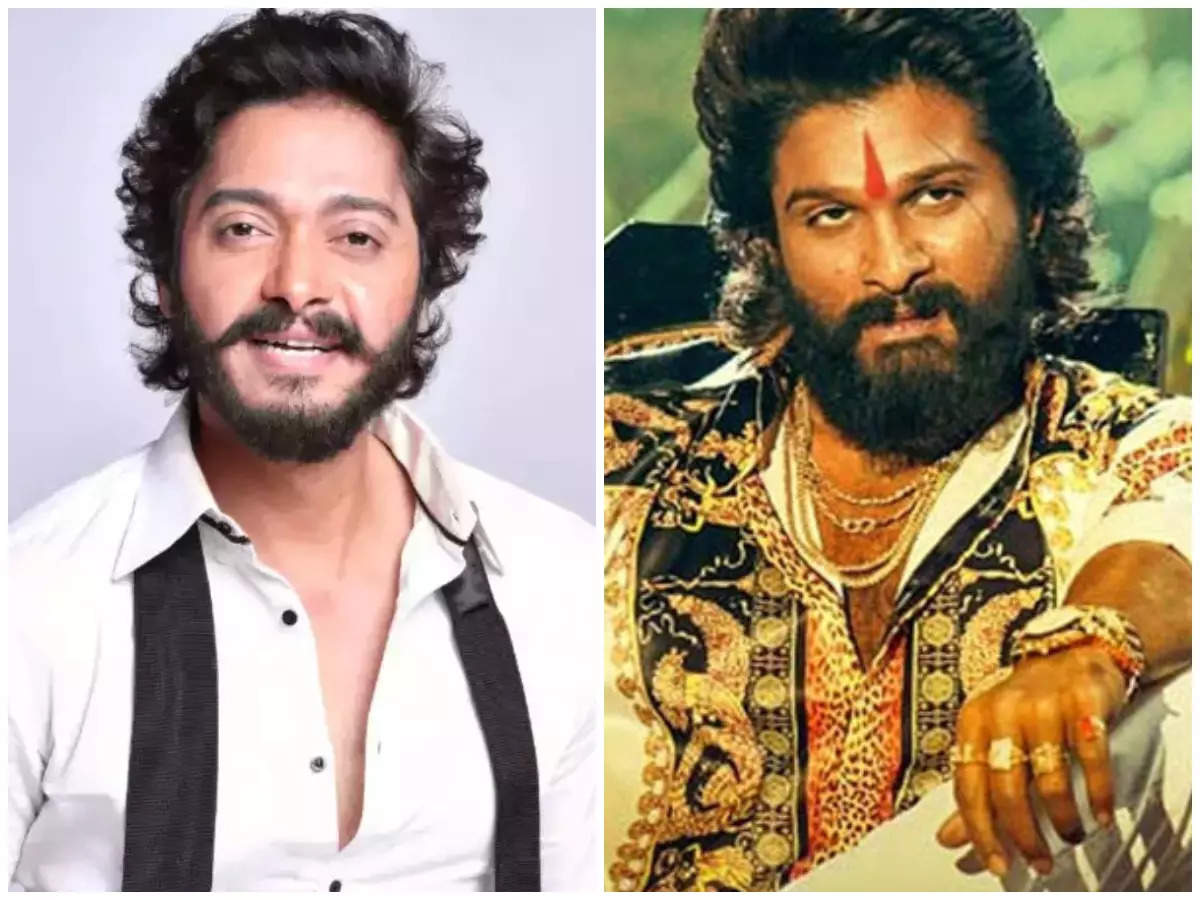 The Hindi remake of Allu Arjun starrer 'Pushpa: The Rise' became as successful as the original Telugu version.
Shreyas Talpade
voiced the main character Pushpa Raj for the Hindi version.
The actor recently revealed some inside stories about the film and its iconic dialogues. Shreyas said that a lot of catchphrases that became popular were ad-libbed in the dubbing booth. Recalling one of the instances, he added that there were a lot of improvisations they did during the dubbing sessions for Pushpa. Originally, the literal translation of Allu Arjun's famous dialogue was 'Pushpa jayega nahi'. But to make it more impactful, they made it 'Pushpa jhukega nahi'. The next thing you know, it has become a rage, Shreyas told the Free Press Journal.
Elaborating further, the Bollywood actor revealed that the iconic dialogue 'Flower nahi, fire hai main' dialogue did not exist in the original film. They got it improvised in the Hindi dubbed version and even after a year, people are seen referring to it. According to him, that was indeed the whole purpose; that instead of literal translation, they improvise it into something that retains the essence of the character but is also memorable for the audience.
Shreyas, who was last seen in Kaun Pravin Tambe?, will next be seen playing the role of former Indian Prime Minister Atal Bihari Vajpayee in Kangana Ranaut's 'Emergency'.
Katrina Kaif shares pics from her best moments with BFF Karisma Kohli, pens note | Bollywood
Katrina Kaif has penned a touching note for her bestie and filmmaker Karishma Kohli on her birthday on Monday. Taking to Instagram, Katrina shared several old and more recent pictures with Karishma as she wished her on her special day. She talked about Karishma facing battles in life and said they will be "doing the rest of life together". Also read: Katrina Kaif and Vicky Kaushal react as paparazzi say 'subah 4 baje se ruke hai' for pics
Sharing many pictures of them together from their various get-togethers, Katrina wrote, "My darling Karishmaaaaaaaaa it's your very special 36th birthday, anyone who says otherwise is wrong (smiley). Where would we be without the madness and joy you bring into our lives, your kindness, warmth, and positivity….. through these years I've seen you battle so much with so much strength and courage it always serves as an example to me."
She added, "Whenever you are around things are sunnier better and the world is just that much brighter ….. Heres to doing the rest of life together…. Through the good times and the stormy weathers and the adventures. Love uuuuuuuu."
The pictures show Katrina and Karishma twinning in red or white, posing by the poolside and at home. Most of them have Katrina giving Karishma a hug as they pose for the camera.
Karishma had co-directed Madhuri Dixit's OTT debut series The Fame Game. She and Katrina have been friends for several years. She is also seen at her house parties. Last month, Katrina and Karishma joined another friend, actor Mini Mathur for a fun game.
Karishma had shared the video with the caption, "When you think you know EVERYTHING about your girls… This has been a fun one. Happy Valentines my girls." In the video, Katrina confessed to checking out her partner's phone in the past and crying in the public bathroom during a Diwali party. She and Karishma also confessed to googling themselves.
Katrina currently has two major projects in the pipeline. She will be seen alongside Vijay Sethupathi in Shriram Raghavan's Merry Christmas. She also has Tiger 3 with Salman Khan. Both the films will release this year.