Strong character, stellar co-stars drew Santhy Balachandran to 'Gulmohar' | Interview | Interviews
Malayalam actor Santhy Balachandran, who made her Bollywood debut through Rahul V Chittella's 'Gulmohar', which boasts a stunning cast like Sharmila Tagore, Simran, Amol Palekar, Manoj Bajpayee and Suraj Sharma, is awestruck by the professionalism of the studio production and senior co-actors. Santhy, who plays the role of a coy and loyal domestic help Reshma Saeed in the movie, in a candid chat with Onmanorama added that apart from the space provided for her character, it was the opportunity to share the screen space with the likes of Sharmila and Simran that wooed her to 'Gulmohar'.
'Gulmohar', the family drama that is streaming on Disney+Hotstar, marks veteran actress Sharmila Tagore's comeback to the silver screen after a 13-year break. Excerpts from the interview.
How did this project materialise?
The cinematographer of 'Gulmohar' (Eeshit Narain) knew me as I had worked on a music video along with him. He had mentioned me to the team, following which I received a call for an audition. Since this was planned during Covid, I had to send videos enacting scenes from the movie from Kerala. I am glad I got my part because I wanted to do the film since it boasted such a stellar cast. Also, I felt that there was enough space for all the characters in the movie to their story.
How was it working with legendary actresses like Sharmila Tagore and Simran?
It was a great learning opportunity. Sharmila ma'am was very warm and sweet. So was Simran. In the film, my character has a special equation with Simran's character. Both play characters with South Indian heritage. Though she is a superstar, she would go out of her way to make me feel comfortable. Everyone on the set, including the young actors, were friendly. Manoj Bajpayee conducted an acting workshop before the shoot and it worked as an icebreaker for all of us. The director also played an instrumental part in making us feel comfortable on the sets.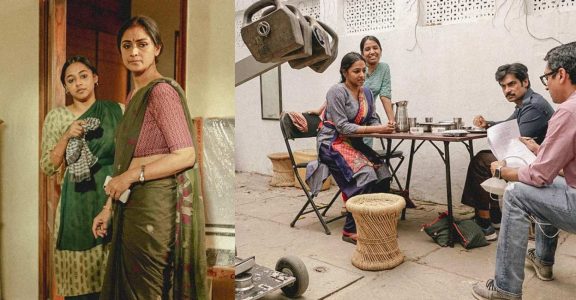 Reshma's chemistry with the house security Jeetendra was endearing to watch…
If you notice, I hardly have any conversations with Jeethu (Jatin Goswami), except once when I get angry with him. Our conversations were usually the unsaid things and I guess that silence spoke more. There's a scene in the movie, where two other house staff have a loud conversation with each other and we sat there, looking at each other and having our moment. Jatin is a really strong actor so he could communicate without saying much. It was also equally interesting working with the other bunch of exciting actors. Chandan Roy (who plays Param) has great comic timing. I had the longest conversations with Irfan (played by Gandharv Devan), which was also nice. We would do a lot of scenes beforehand to make our scenes perfect. We all supported each other to do our best.
What was it that drew you to Reshma's character in the movie?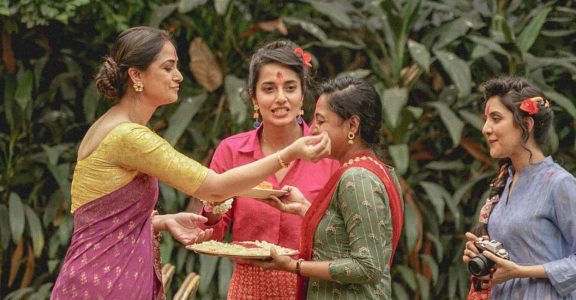 I generally take up a character based on my conviction about the film. Factors like whether I want to be part of the story influence my decision a lot. In 'Gulmohar', I liked how the director and editor treated every character and how each of them had their arc. Also, Reshma's character was quite different from many of the roles I have played in Malayalam films. In Mollywood, most of my characters had grey shades or an ulterior motive. For example, Sofie in 'Jallikattu' and Maalu of 'Tharangam' who has kleptomania. Even Linda in 'Paapam Cheyyathavar Kalleriyatte' is a person with a learning disability. Reshma, however, was different. I like that Reshma is a spunky woman, who is both feisty and sensitive at the same time. She is confident in her interactions with others, but when it comes to matters of the heart, she is still waiting for people to make the first move. It was interesting to balance her sassy side, including those conversations with Param and her coy side (romance) with Jeetu.
What is the major difference between working in Bollywood and Mollywood?
I can't generalise since 'Gulmohar' is not a typical Bollywood film. However, since it was a studio production, the communication and structure felt more organised and corporate. At the same time, the people on set were warm and friendly. I was impressed by how things were planned out well.
Do you have any other projects lined up?
I have not signed up for any new projects but have a few more upcoming releases. I am awaiting the release of the Amazon web series 'Sweet Kaaram Coffee', which revolves around three generations of women from the same family. I play the lead alongside veteran actors Lakshmi and Madhoo in it. It belongs to the feel-good, family drama genre and will be a refreshing change from the dark content that dominates OTT these days. I find working on a web series quite rewarding because as an actor you get more time and space to develop your character's arc.
Sidharth Bharathan's Chathuram has been released on OTT and is generating a lot of discussions. What did you like the most about your character?
Jijimol is a character many can relate to. She has simple dreams and is working her way towards achieving them. What I found most gripping about her was that she is also wise enough to know when it is time to let go and does so with great dignity. I loved her sense of self-respect.
Fifth Rain International Nature Film Festival begins in Muvattupuzha | Entertainment News
Nirmala College in Muvattupuzha, is hosting the fifth Rain International Nature Film Festival (RINFF) this year on March 23-24. 'The Heart of Baikal,' a Russian film in the competition category will be the inaugural movie. It will be screened at 10 am on Thursday at the college auditorium after a function presided over by the college principal, Dr Thomas KV.
As many as 23 feature films will be screened in the competition section. The jury chairman of the international competition segment is noted filmmaker, Girish Kasaravalli. Actress-director Bijaya Jena, and director Kaviyoor Sivaprasad are the jury members.
Noted film journalist Dr Khalid Ali is the international programmer. The concluding film will be the movie selected for the Silver Elephant Prize for the best feature film. Apart from the international competition segment, a contest of short films and documentaries for school and college students is also being organised.
The best film by school students will be awarded the Golden Owl Prize and the best college movie will get Golden Hornbill Prize. Any movie that wins a special jury mention in this category will be awarded the Silver Butterfly Prize.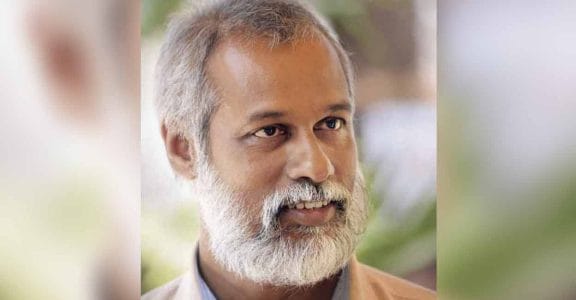 RINFF, organized by Birds Club International and Jayaraj Foundation is the international contest venue where movies aimed at spreading the message of nature conservation compete. This year's 'Prakriti Puraskar', the Golden Elephant lifetime achievement award for the overall contribution towards the conservation of nature will be conferred on renowned environmentalist and writer Dr E Unnikrishnan, who is popularly known as Kavunni.
Noted actor-director-script writer Renji Panicker will be the chief guest. Ace national award-winning filmmaker Jayaraj, who is the festival director, will introduce the guests to the audience.
"This film festival aims to bring together ecologically aware filmmakers from around the world in order to showcase their works, facilitating an authentic platform for raising environmental awareness," Jayaraj said in his message on the eve of the festival. As usual, this year too the winner of 'Prakriti Puraskar' will be inaugurating the festival.
Shoot of Dhanush-starrer 'Captain Miller' inside tiger reserve irks environmentalists | Entertainment News
Chennai: Environmentalists are up in arms against Dhanush-starrer 'Captain Miller', stating that the shooting of the movie was causing problems to wild animals in Kalakad Mundanthurai Tiger Reserve (KTMR) in Tamil Nadu. C Rajeev, director, Centre for Policy and Development Studies, a think tank based out of Chennai, said: "It has to be properly looked into whether proper permissions have been taken for the shooting of the movie Captain Miller near the buffer zone near the KTMR tiger reserve. Local people have complained that the high beam lights are affecting the wildlife, including elephants and tigers besides other animals and environment ministry has to conduct a proper probe as to whether permission has been granted and if so, then how."
A MDMK leader and Keezhavapur Union councillor Rama Udayakumar has already petitioned the district administration to take action against the movie unit.
A big set has been constructed on a private land adjacent to the KTMR and lighting and fireworks are used in the set. The shooting for the movie, produced by Satya Jyothi films, is likely to conclude in mid April.
When contacted, councillor Rama Udayakumar said that the movie unit has damaged the Chenkulam canal bank and filled it with soil. Udaykumar said: "This canal is the lifeline of 15 water tanks as it brings water to these tanks from Cottulam water falls. The forest department must immediately take action. The film crew is stating that they are close to the ruling dispensation."
Local people have also complained to the district forest authorities of the presence of a single Tusker in farm land and said that the Tusker was not going to the forest due to the lighting and fireworks that drives the wild animals out of their habitats.
Tamil Nadu forest minister's office told IANS that they were looking into the matter and will brief media after taking feedback from forest department authorities. The officials of Satya Films were unavailable for comment.
Aishwarya Rajinikanth's driver and domestic help arrested for jewellery theft
Chennai: The Tamil Nadu police have arrested superstar Rajinikanth's daughter Aishwarya's driver and domestic help on suspicion of stealing her jewellery. The arrest was made by the Teynampet police on Tuesday following a complaint lodged by the filmmaker.
According to police, the domestic help Eswari and the driver Venkatesan collided and stole the jewellery kept in a locker at the director's residence.
Aishwarya had lodged a complaint with the Teynampet police recently stating that her ornaments including gold jewellery and diamonds, had been stolen from her flat and named three of her servants as suspects.
On interrogation, police found that Eswari had stolen 100 sovereigns of gold, 30 grams of diamond jewellery and 4 kg of silver.
The Greater Chennai Police, in a statement on Wednesday, said that the duo was arrested on Tuesday.
Eswari was working with Aishwarya for the past 18 years and knew where the key to the locker was kept. She had allegedly taken the jewellery, sold it and bought a house with the money.
The police said that she had stolen the jewellery over a period of time.
Documents related to the purchase of the house were recovered from Eswari's residence.