Timothy W. Bliefnick gets accused of wife's murder made haunting joke on show
Former Family Feud contestant Timothy W. Bliefnick has been charged with the murder of his estranged wife, Rebecca Bliefnick. He has been facing two counts of first-degree murder and home invasion in connection with the murder of his wife, who was found shot to death in her home on February 23, this year. (Also read: Wheel of Fortune's contestant Khushi leaves crowd shocked with response: 'What!' Check out what she said.)
Timothy and his family members appeared on the popular game show in 2020, where he joked about his marriage during one of the questions posed by host Steve Harvey. Steve asked him, "What is the biggest mistake you made at your wedding?" Timothy replied, "Honey I love you but said I do." Then, audience erupted in laughter. He continued, and said, "Not my mistake I love my wife." In the end, Steve said, "I'm gonna get in trouble for that aren't I."
The video was surfaced online. Reacting to the episode, one person commented, "Aside from the fact that he is charged with her murder, can we talk about how corny it is that people still think hating their spouse, joking or not, is funny? Because it's pretty weird." Another person wrote, "This is not supposed to be a question directly to him to answer from his point of view, answers are supposed to be based on many peoples answers, any answer is ok. Where he messed up and brought it out about his life and his marriage was when he said sorry honey. If he woulda just answered with all seriousness said I do, then that would have been a logical answer." Other person commented, "He didn't kill his wife, guys. Get all the facts. They'd been divorced for 2 years. She was his ex-wife."
According to Casey Schnack, Bliefnick's lawyer, her client will plead not guilty to the charges against him, as she told PEOPLE, the sister publication of EW. She also stated that there was no history of domestic violence in their relationship, and that her client was a "standard, all-American, Midwestern dad" who was active in the community.
Rebecca Bliefnick, a mother of three boys, worked as a registered nurse and was also a certified trauma nurse specialist and a sexual assault nurse examiner. Her obituary stated that she was nominated for a DAISY Award in 2020, which celebrates nurses who administer exceptional care. A GoFundMe campaign has been created to establish a scholarship fund in her name and to help with family expenses related to her death and the future care of her boys.
During Monday's press conference, the Quincy Police Department issued a statement to Rebecca's family, expressing their condolences and promising to use every available resource to bring them justice. "Nothing we do as a police department will ever bring Rebecca back to you and her three boys," they said.
Discover the world of Mashle: Magic and Muscles – Everything you need to know
Are you ready for the ultimate magical shonen experience? Look no further than Mashle: Magic And Muscles, the upcoming anime adaptation of the popular manga series. With a unique twist on the magical world trope and a cast of talented voice actors and production staff, Mashle is sure to captivate audiences when it airs on April 7, 2023. Here's everything you need to know about the series before it premieres.
Join Mash at Easton Magic Academy – Can he keep up the facade and outwit his magical peers?
In a world where magic is everything, Mash stands out as an anomaly. He is unable to use magic but makes up for it with his incredible physical strength and combat abilities. When he and his adoptive father are threatened by those who despise non-magic users, Mash must enrol in a school similar to Harry Potter's Hogwarts, Easton Magic Academy and pose as a Divine Visionary to protect his family and achieve peace. But can he keep up the facade and outwit his magical peers?
Meet the star-studded cast and production team behind Mashle: Magic And Muscles
Mashle: Magic And Muscles boasts an impressive cast of voice actors and production staff. Yuuki Kaji, known for his role as Eren in Attack on Titan, joins the series as Rayne Ames, one of the Divine Visionaries at Easton Magic Academy. Yuichiro Umehara, who played Mars in Black Clover and the titular character in Goblin Slayer, voices Abel Walker, the leader of the school's secret organization Magia Lupus. Hiroki Nanami, who portrayed Asakura Haou in Shaman King, voices Abyss Razor, another member of Magia Lupus. (Also Read: Spring 2023 anime season is here – Checkout Cruncyroll's complete April lineup)
The anime is directed by Tomonari Tanaka of A-1 Pictures, who has previously worked on Bungo Stray Dogs, Hunter X Hunter, and Cyberpunk Edgerunners. The script is written by Yousuke Kuroda, whose impressive resume includes Honey and Clover and Mobile Suit Gundam 00. Finally, Masaru Yokoyama, who composed the music for Fruits Basket, Astra Lost in Space, and Your Lie in April, will lend his talents to the series.
The official trailer promises an action-packed thrill ride
The official trailer for Mashle: Magic And Muscles promises a thrilling ride, with Mash showing off his combat skills against a variety of magical foes. The animation is top-notch, with fluid movements and dynamic fight scenes. Fans of shonen anime won't be disappointed by the action-packed trailer.
Where to watch Mashle: Magic And Muscles?
Crunchyroll has announced that it will be simulcasting Mashle: Magic And Muscles, meaning fans around the world can tune in to the premiere on April 7. Whether you're a fan of the manga or discovering the series for the first time, the simulcast allows everyone to experience the excitement of the series together.
Mashle: Magic And Muscles is shaping up to be one of the most exciting new anime releases of the 2023 spring season. With a unique premise, talented voice actors and production staff, and stunning animation, the series is sure to please fans of shonen anime and beyond. Don't miss the simulcast premiere on Crunchyroll on April 7 and witness Mash's incredible strength and courage as a Divine Visionary.
Pooja Bhatt tests positive for Covid-19, requests people to wear mask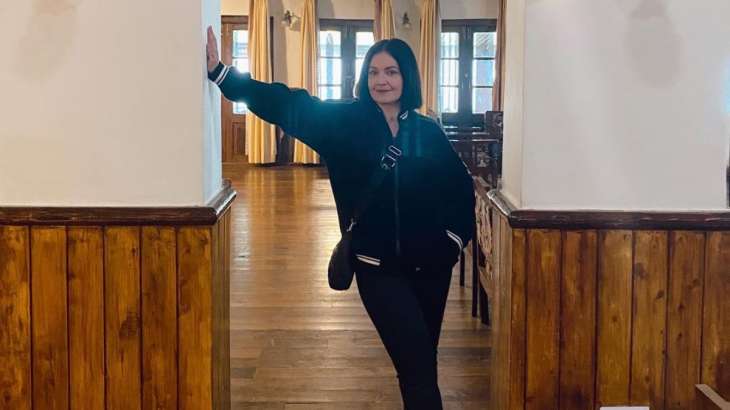 Actor-director Pooja Bhatt, took to her social media handles to inform people that she has tested positive for Covid-19. She advised everyone to mask up saying the deadly virus is still very much around and can get to you despite being fully vaccinated. She shared the news while reacting to a video of kids banging utensils to 'drive away' coronavirus in 2020 during the first wave.
Taking to her Twitter handle, she wrote, "And exactly 3 yrs later, I have tested positive for the first time. Mask up people! Covid is still very much around & can get to you despite being fully vaccinated. Hopefully, I shall be back on my feet soon." 
Reacting to the news, Pooja's friends and followers wished her a speedy recovery on Twitter. As filmmaker Onir wished Pooja, "Get well soon Pooja. sending you love and good energy," she responded to him, saying, "Ahhh! Thank you Onir!" When a Twitter user wrote to her, "Be well soon, Pooja. Binge on anything and everything it's a free pass!" she replied with laughing emojis, "thankfully I have no appetite!" Another user wrote, "Dang! Get well soon! And welcome to our group of 'experienced' ones! My friend said she had her best ideas during the forced quarantine." Replying to the user, Pooja wrote, "Yes nothing like a reminder of one's mortality to have the best thoughts."
There has been a surge in the case of the coronavirus and several actors have contracted the novel virus. Earlier, actor-politician Kirron Kher had been diagnosed positive for Covid. She tweeted, "I have tested positive for Covid. So anyone who has come in contact with me please get yourself tested."
Pooja was last seen in a thriller, 'Chup: Revenge of The Artist'. She was earlier seen in Mahesh Bhatt's film 'Sadak 2' and a web show 'Bombay Begums'. She made her acting debut at age 17, in 1989 with Daddy, and is known for her work in films like 'Dil Hai Ke Manta Nahin', 'Sadak', 'Zakhm', and 'Border'. 
Also Read: Emraan Hashmi Birthday: Throwback to the songs that prove his films have the best music
Also Read: Are Parineeti Chopra and AAP leader Raghav Chadha ROKAFIED? Politician reacts to dating rumours
Love Is Blind Season 4 Review
I am trapped in a toxic relationship with Love Is Blind, Netflix's Emmy-nominated reality series (yes, seriously, for Outstanding Structured Reality Program in 2020 and 2022, and Outstanding Casting for a Reality Program in 2020), which begins its fourth season on Friday. I find the premise of the show — that true love leads to a quick marriage — absurd. I think people are genuinely hurt through this process. And yet I keep watching, selfishly hoping to be swept away by onscreen romances that I know in my heart have the slimmest chances of bearing out in the real world. 
After a messy third season in Dallas, hampered by a cast of some deeply unpleasant and immature characters, Love Is Blind's fourth season features singles living in Seattle who are, overall, more likable. With each episode, however, you see the couples start to realize the magnitude of what they're being asked to do: marry someone they met just a few weeks ago, despite their doubts, despite their families' wishes, and despite the need to suddenly uproot their lives. The odds are stacked against them, and this season leans more heavily into that tension than before. 
The cast includes Zack, a quirky criminal defense attorney who said he's been judged for the way he grew up (his mother was a stripper); Brett, a mellow designer who picked up drawing as a low-income kid and landed a job at Nike without a college degree; Kwame, an animated sales development manager and former soccer player from Ghana; Marshall, a marketing manager who had demanding parents and describes himself as emotional and sensitive; and Paul, a rational-minded environmental scientist who said Love Is Blind is a "surprisingly sound" experiment. The women include Chelsea, a pediatric speech pathologist with a manner that's both shrewd and direct; Tiffany, a successful recruiter who likes to defy expectations and is worried about finding a partner at age 36; Jackelina, a fun, sassy dental assistant who had "hard" parents; and Micah, a bubbly marketing manager who calls herself an empath. On the whole, they seem more mature and developed than the Dallas crew, although they are not without their flaws.