WWE 2K23 launches on PC, PlayStation and Xbox: Price, features and more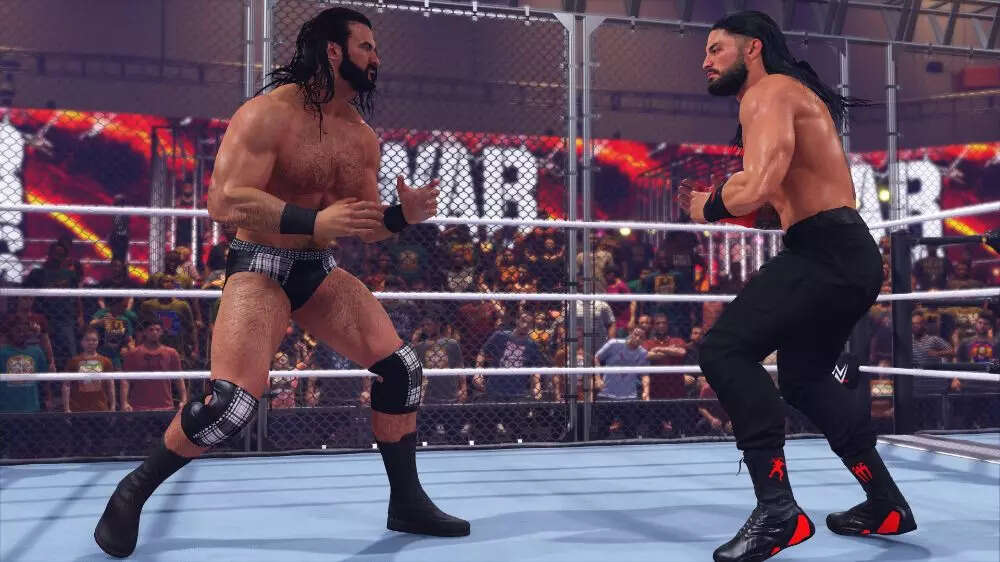 WWE 2K23, the wrestling simulation video game, is officially out. The game stars WWE legend John Cena on the cover and introduces certain new features for the franchise as well. WWE 2K23 is developed by Visual Concepts and published by 2K Sports.
WWE 2K23 price in India
WWE 2K23 standard edition is available for PC (on Steam) at the price of Rs 3,399. The cross-gen bundles on PS5 and Xbox Series X/S versions are priced at Rs 4,999. For older consoles (PS4 and Xbox One), the game is available at a price of Rs 4,499.
Besides the standard and cross-gen editions, there are two special editions of WWE 2K23. The Deluxe Edition of the game, which comes with Deluxe Edition Content and Bad Bunny Bonus Pack, is priced at Rs 7,499. In addition to the extra content available in the Deluxe Edition, the Icon Edition also contains Icon Edition Content and Ruthless Aggression Content.
WarGames match type is here
WarGames is one of the popular match types in WWE. With this year's game, the match type has finally made it to the WWE 2K franchise. The match features a double-sized cage, two adjacent rings, and up to 8 players brawling at the same time. WarGames will allow gamers to clash in 3v3 and 4v4 matches.
Showcase mode with a twist
Like the previous WWE 2K games, WWE 2K23 also includes a Showcase mode. This rendition focuses on the career of John Cena in this mode. However, unlike the past entries where players took on the role of the Showcase wrestler, the players will instead face off against Cena, stepping into the shoes of his biggest rivals this time around.
Other new additions to the game
WWE 2K23 also marks the return of Creation Suite, which allows players to create their custom wrestlers, entrances, arenas, and more. They can also share these creations with other players across console generations. Moving on, the MyGM mode has received new managers to choose from, including Xavier Woods, Tyler Breeze, Eric Bischoff, Kurt Angle, and Mick Foley. Furthermore, the MyFACTION mode now comes with multiplayer support for interested players.
Why Veeam thinks ransomware warranty payouts are unlikely
Backup specialist Veeam recently rebranded its data protection offer as Veeam Data Platform. But key among the myriad updates and feature enhancements was a ransomware guarantee, with financial compensation if data can't be recovered.
Obviously, Veeam hopes that will not need to be invoked by customers, and places faith in its ability to monitor rapidly changing environments and maintain up-to-date backups.
Veeam Data Platform comprises the company's Backup & Replication, monitoring tool VeeamONE, Veeam Recovery Orchestrator automation functionality, and SaaS backup modules for Salesforce and Office365, all of which replaces the Veeam Availability Suite.
The problem backup product makers face today is that an organisation's IT estate can span many different application and operating system environments, dating from last-century platforms to today's cloud-native and containerised workloads.
As with most contemporary hybrid cloud and containerised applications, the challenge is particularly great because data can flow to multiple locations with ease, quickly arising and being snuffed out in numerous environments.
"There is an incredible amount of complexity across IT in organisations, with legacy applications on AS400, applications built on Cobol, stuff dating from the 1990s and even the '80s," said Dan Middleton, UK and Ireland vice-president at Veeam.
"That can be on mainframes, physical servers, VMs, SQL, cloud-native applications, containers, you name it."
How does Veeam propose to keep up with such complexity? Some suppliers have proposed automated methods of data discovery and provisioning. Veeam's Middleton suggested its use of artificial intelligence and machine learning to monitor deployments, but deferred on the details.
"How can data protection keep up? It's a case of when you update production methods, you update data protection too," said Middleton. "For example, you can get Microsoft 365 deployments with 10,000 users with a churn of 10% or 20% a year. As we parse the system, we constantly track changes in an automated way."
Meanwhile, Veeam is keen to stress its guarantees – which it claims are unique among backup suppliers – that ensure recovery or financial compensation in the case of a ransomware outage.
"In version 12, it is the first time any backup vendor has provided a warranty against ransomware," said Middleton. "As long as Veeam has been installed correctly, the customer has gone via an accredited service provider and the correct level of protection is in place, then if the customer can't recover their data Veeam will provide a financial amount."
But before it gets to that, Veeam reporting aims to ensure all is well should a ransomware-shaped disaster strike. In other words, protecting data correctly, monitoring suspicious potential ransomware activity with the numerous detection capabilities in Veeam One, ensuring security in user access and making sure the customer can restore by validating backups and testing.
Veeam also aims to guarantee satisfaction by lack of customer lock-in, said Middleton.
"A key point is the ability never to be locked into any technology," he said. "We make Veeam as agnostic as possible. The idea is that we don't lock customers in and if they want to move they can. How we do this is with 'self-describing files'."
Asteroid Ryugu discovery suggests where ingredients for life on Earth came from
Two organic compounds essential for living organisms have been found in samples retrieved from the asteroid Ryugu, buttressing the notion that some ingredients crucial for the advent of life arrived on Earth aboard rocks from space billions of years ago.
Scientists said on Tuesday they detected uracil and niacin in rocks obtained by the Japanese Space Agency's Hayabusa2 spacecraft from two sites on Ryugu in 2019. Uracil is one of the chemical building blocks for RNA, a molecule carrying directions for building and operating living organisms. Niacin, also called Vitamin B3 or nicotinic acid, is vital for their metabolism.
The Ryugu samples, which looked like dark-gray rubble, were transported 155 million miles (250 million km) back to Earth and returned to our planet's surface in a sealed capsule that landed in 2020 in Australia's remote outback for analysis in Japan.
Scientists long have pondered about the conditions necessary for life to arise after Earth formed about 4.5 billion years ago. The new findings fit well with the hypothesis that bodies like comets, asteroids and meteorites that bombarded early Earth seeded the young planet with compounds that helped pave the way for the first microbes.
Scientists previously detected key organic molecules in carbon-rich meteorites found on Earth. But there was the question of whether these space rocks had been contaminated by exposure to the Earth's environment after landing.
"Our key finding is that uracil and niacin, both of which are of biological significance, are indeed present in extraterrestrial environments and they may have been provided to the early Earth as a component of asteroids and meteorites. We suspect they had a role in prebiotic evolution on Earth and possibly for the emergence of first life," said astrochemist Yasuhiro Oba of Hokkaido University in Japan, lead author of the research published in the journal Nature Communications.
"These molecules on Ryugu were recovered in a pristine extraterrestrial setting," Oba said. "It was directly sampled on the asteroid Ryugu and returned to Earth, and finally to laboratories without any contact with terrestrial contaminants."
RNA, short for ribonucleic acid, would not be possible without uracil. RNA, a molecule present in all living cells, is vital in coding, regulation and activity of genes. RNA has structural similarities to DNA, a molecule that carries an organism's genetic blueprint.
Niacin is important in underpinning metabolism and can help produce the "energy" that powers living organisms.
The researchers extracted uracil, niacin and some other organic compounds in the Ryugu samples by soaking the material in hot water and then performing analyses called liquid chromatography and high-resolution mass spectrometry.
Organic astrochemist and study co-author Yoshinori Takano of the Japan Agency for Marine-Earth Science and Technology (JAMSTEC) said he is now looking forward to the results of analyses on samples being returned to Earth in September from another asteroid. The U.S. space agency NASA during its OSIRIS-REx mission collected samples in 2020 from the asteroid Bennu.
Oba said uracil and niacin were found at both landing sites on Ryugu, which is about a half-mile (900 meters) in diameter and is classified as a near-Earth asteroid. The concentrations of the compounds were higher at one of the sites than the other.
The sample from the site with the lower concentrations was derived from surface material more susceptible to degradation induced by energetic particles darting through space, Oba said. The sample from the other site was mainly derived from subsurface material more protected from degradation, Oba added.
Asteroids are rocky primordial bodies that formed in the early solar system. The researchers suggest that the organic compounds found on Ryugu may have been formed with the help of chemical reactions caused by starlight in icy materials residing in interstellar space.
US FTC Seeks Information on Cloud Computing Companies' Business Practices
The Federal Trade Commission said on Wednesday it is seeking information from the public on cloud computing companies' business practices including details on their market power, competition and potential security issues.
The US cloud computing business is dominated by four providers that include Amazon.com, Microsoft, Alphabet's Google and Oracle. None of the companies immediately responded to a request for comment.
"Swathes of the economy now seem reliant on a small number of cloud computing providers," said FTC Chair Lina Khan on Twitter. She added that the FTC "is seeking public input on how the current market structure and business practices of cloud providers affect competition and data security."
The FTC and Justice Department under President Joe Biden have taken a strong stance against the perceived abuse of market power by challenging numerous mergers, cracking down on what it calls "junk fees", and other actions aimed at giving consumers more say in the services they use.
Recently, regulators have started to focus on the cloud. Europe's antitrust authority began probing Microsoft's licensing agreements that discouraged rival cloud usage, prompting changes by the company in October that critics still called insufficient. Fees to take data out of various providers' clouds have also drawn scrutiny from smaller players.
FTC staff are interested in the impact of cloud computing on industries including "healthcare, finance, transportation, e-commerce, and defense," according to its press release.
The public will have until May 22 to submit a comment on the FTC "Request for information".
The agency is asking for comments on which segments of the economy rely on a handful of cloud service providers, detail on contract negotiations, incentives to buy more services from a single provider, detail on services provided and information on notifications related to security.
The consumer protection agency noted it has targeted companies that failed to put in place security safeguards to protect data stored on third-party cloud computing services including one involving the alcohol delivery platform Drizly and another focused on education technology provider Chegg.
© Thomson Reuters 2023
---
After facing headwinds in India last year, Xiaomi is all set to take on the competition in 2023. What are the company's plans for its wide product portfolio and its Make in India commitment in the country? We discuss this and more on Orbital, the Gadgets 360 podcast. Orbital is available on Spotify, Gaana, JioSaavn, Google Podcasts, Apple Podcasts, Amazon Music and wherever you get your podcasts.
Affiliate links may be automatically generated – see our ethics statement for details.